Multi Recreational Vehicle
REMOVABLE SEATS
VERSATILE LOAD SPACE
3 ROOF OPTIONS
TWIN SLIDE DOORS
DUAL HEIGHT SEAT/BED
IDEAL FOR DOG OWNERS
Q: WHY IS THE MRV DIFFERENT?
A: The MRV shares it sibling's twin door and Leisure van furniture, but this is were the similarities stop. The traditional rock 'n roll style seat / bed is replaced with an Innovative suspended bed which can be completely removed or set at multiple heights as a bed or habitation seat, An optional M1 certified bonded floor allows up to 3 optional single fold flat seats to be placed in multiple positions.
Q: WHY CONSIDER A MRV VAN?
A: The clue is in the name – A truly versatile and "multi"purpose compact vehicle you want to drive anywhere. Twin side doors, fixed furniture and an Innovative suspended bed define the MRV as a Camper with the capacity to live on or off grid, but with an adaptable boot space perfect for dog owners, cyclists, canoeists or anyone with an outdoor hobby or pastime.
Q: DO I NEED SO MANY COMBINATIONS & FLOOR PLANS?
Q: Typically, most MRV owners will run with a couple of set ups that offer an easy transition between layouts, for example the primary bed is used as a parcel shelf and at night time rear seats fold flat to easily make up the bed with no loss of storage. Alternatively, with minimal effort the MRV can offer so much more………
Q: WHY AUTO CAMPERS?
A: An intelligently versatile series of campers that uniquely exceed expectations.
LO-LINE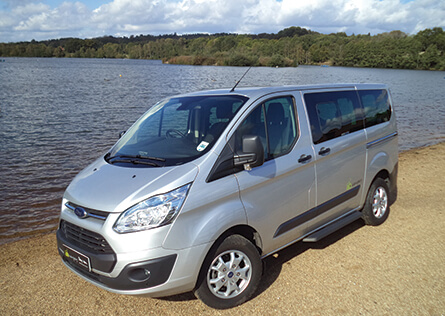 Lowest roof – Best accessibility
Ford folding roof rack option
Lowest risk for damage
Most affordable
Drive without hesitation
HI-LINE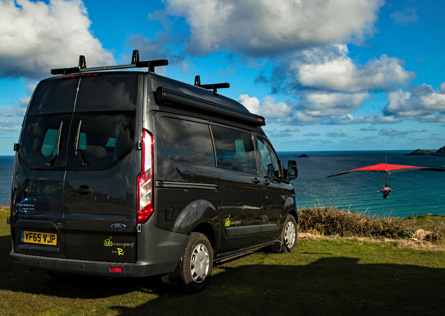 Best all year round insulation
Permanent day light/vent option
Max storage with locker option
Strong Ford factory steel roof
All year round headroom
Subtle roof line & silhouette
POP-TOP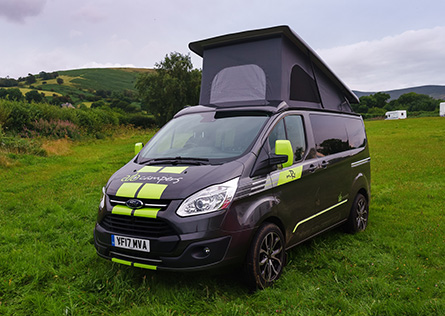 MPV aesthetics
Roof bed option (4 berth)
Max inside space (roof up)
Best of both worlds (roof down)
Coolest in Summertime
Adult or children's roof bed
Base vehicle choices & specification
Buy with the heart – iconic camper for 40 years
Compact footprint – narrow for city commuting
Pop top can be under 2.0mtrs
4-wheel drive option available
High output 204ps & DSG options available
OR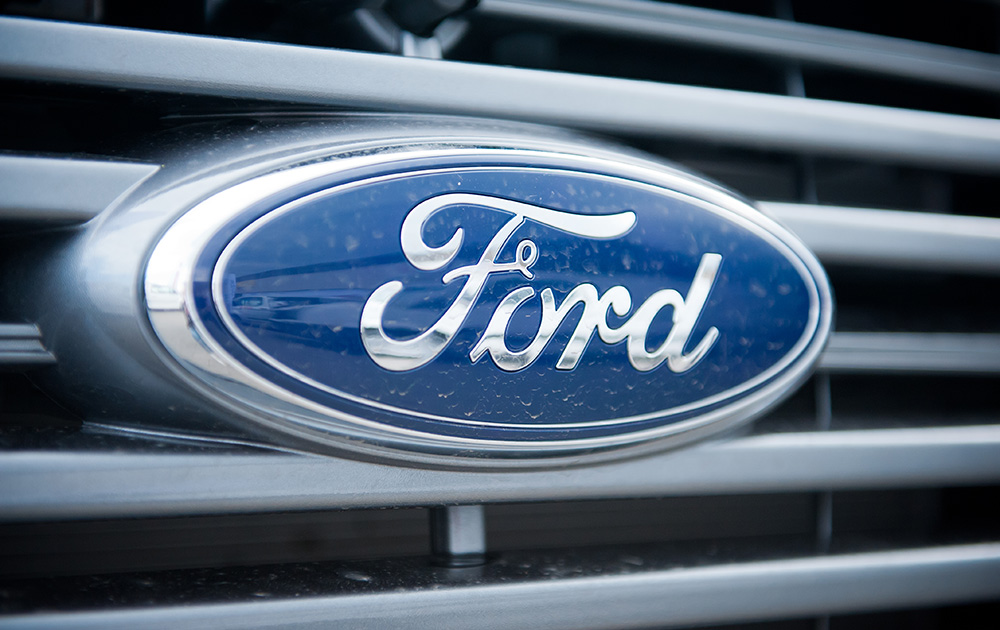 Refined car comfort and attractive kinetic design
Available in all 3 roof options, Lo. Hi & Pop top
6 speed manual or Automatic
Tremendous value & strong residual value
Deeper storage, wider roof space / bed
ENGINES & TRANSMISSIONS
Auto Camper believe the conversion element of a Camper simulates a partial load, and specify Ford 130ps & VW 150ps medium output engines for ample performance balanced against economy.  6 speed manual transmission is standard, alternatively VW DSG gearbox or Ford Automatic transmission is an option, for ultimate performance and torque, spoil yourself with VW's 204 ps or Ford's 170ps high output engines.
VARIANT
All Auto Campers are based on the L1 short wheelbase model for optimum manoeuvrability and easy parking.  Standard specification includes, parking sensors, power windows & mirrors, heated windscreen, DAB radio, Metallic paint, wheel trims and colour coded bumper are just a few standard options, the 170ps Ford Limited model is similar to VW's Highline model by including Air con, Alloys and full colour coding. Safety is paramount including driver & passenger airbags, ABS & various traction control systems.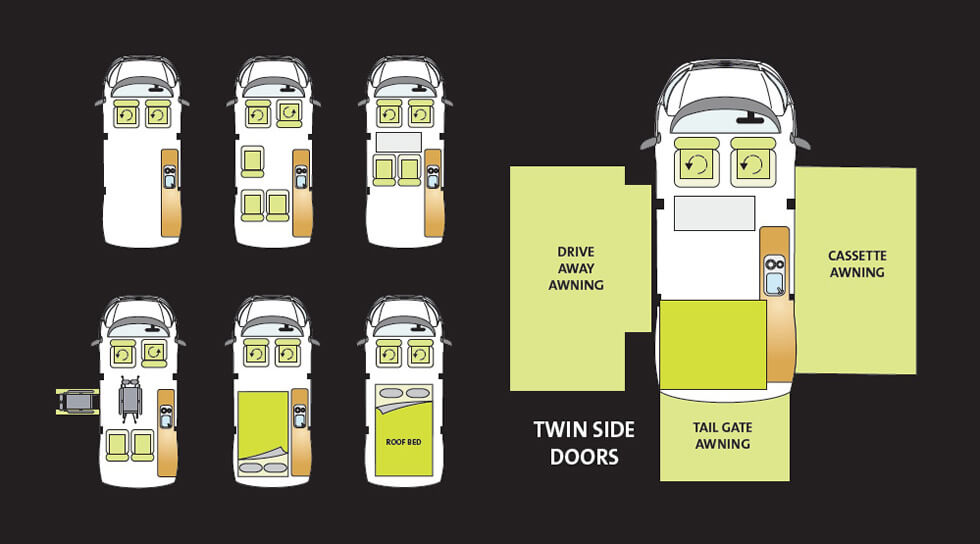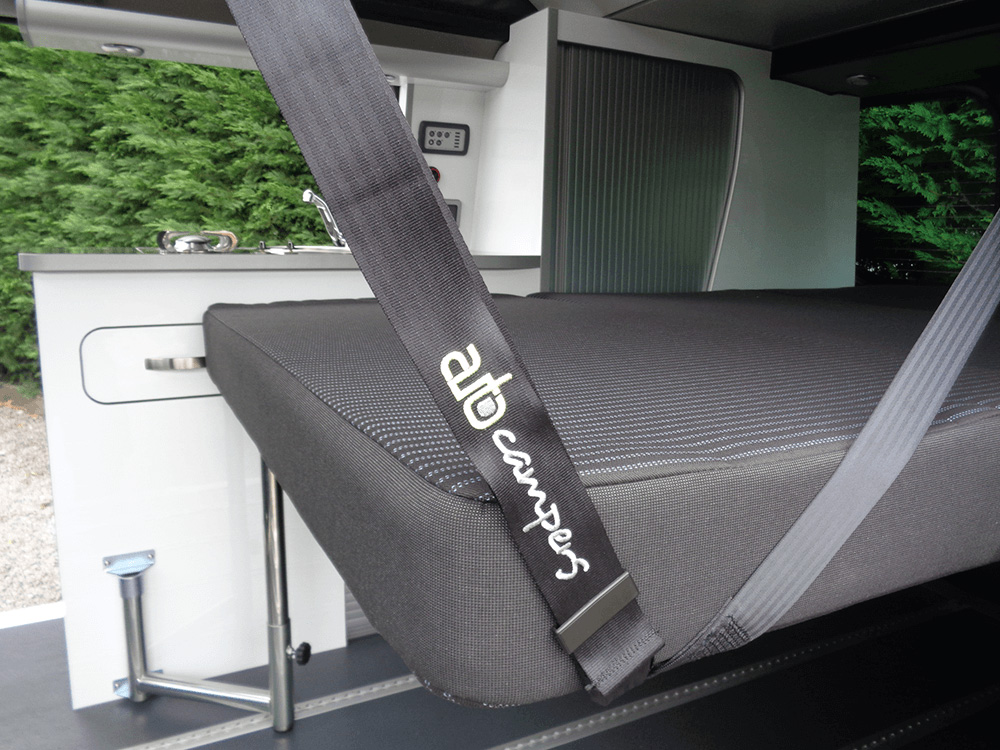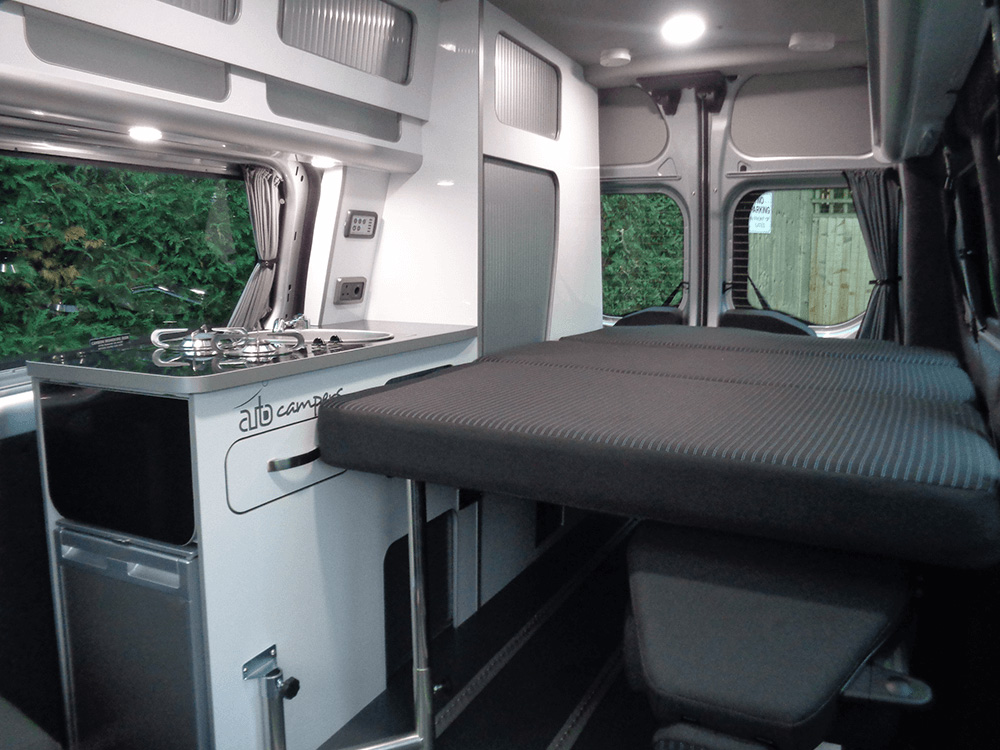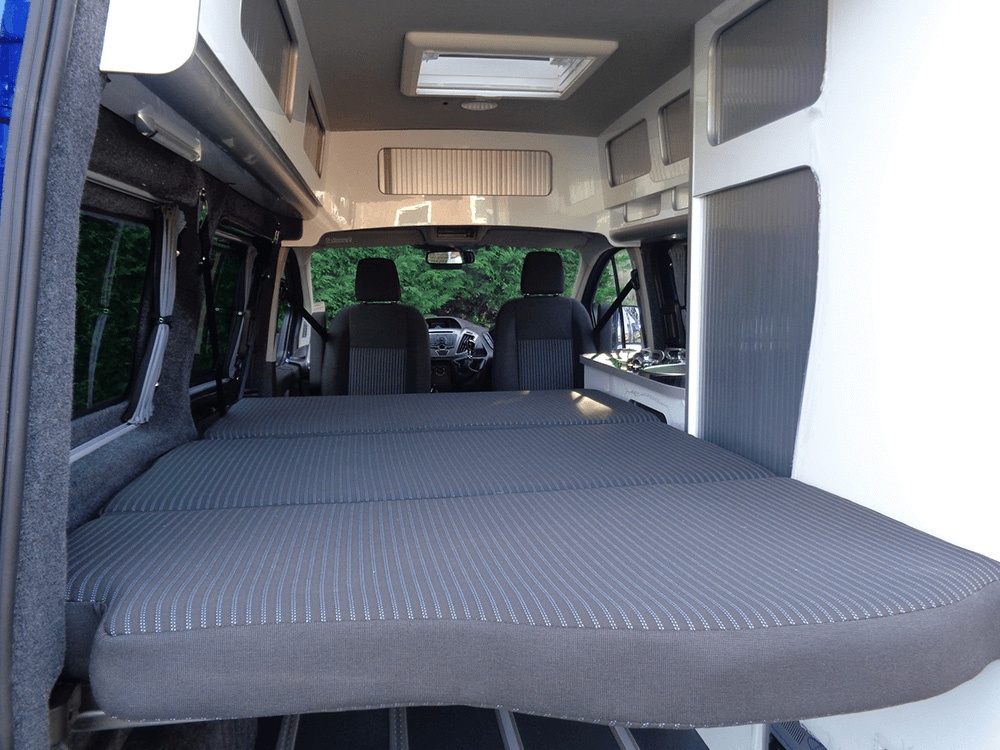 Standard MRV habitation flooring is slip resistant Altro vinyl, over a composite ply and Styrofoam insulated floor including stainless steel door trims cover.
The optional bonded floor system is required if rear passenger seating is required, single fold flat seats can be position between any of the 4 rails either to the left, right or centre.
If 5 travel seats are required, most would place a single 2nd row central seat with armrests and 2 x singles in the 3rd row, this offer great passenger visability with easy access to all seats and areas of the MRV.
Seats fold flat, recline and include adjustable headrests, to remove, simply unclip, tilt back and manoeuvre on wheelie wheels.
Two removable extruded crossbeams rest in multi height stainless steel furniture sockets and side beams, self-engaging alloy slats rollout to support a deep 4" bi-fold mattress which most would leave in place as a heavy-duty parcel shelf, all components are robust and light, enabling the bed to be set up and taken down with minimal effort.
A longitudinal bed extension cushion clips into the forward crossbeam and is support by the table bracket and supporting pole, whilst engineered roof brackets provide substantial anchors for a bespoke belt and buckle.
Stainless steel brackets lay conveniently flat on the bed slats until required to quickly rotate and set a tilt on the bed or to change the primary bed base in to a habitation seat (Not for travel use)
The MRV's biggest asset is its flexible load area and suspended bed which mitigates the need to decant all your valued possessions into a tent before you retire for the evening.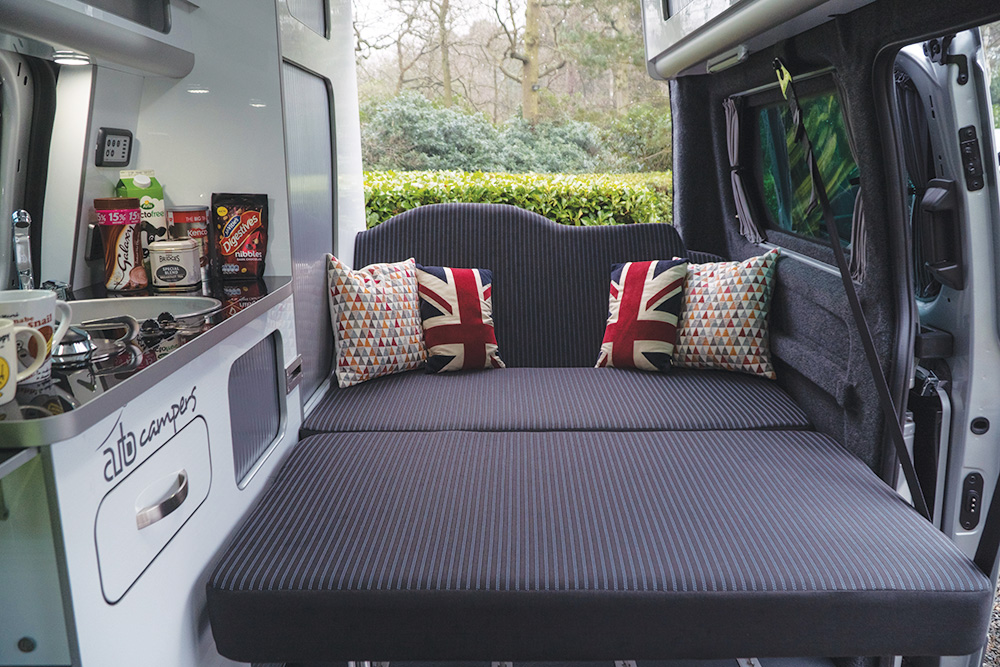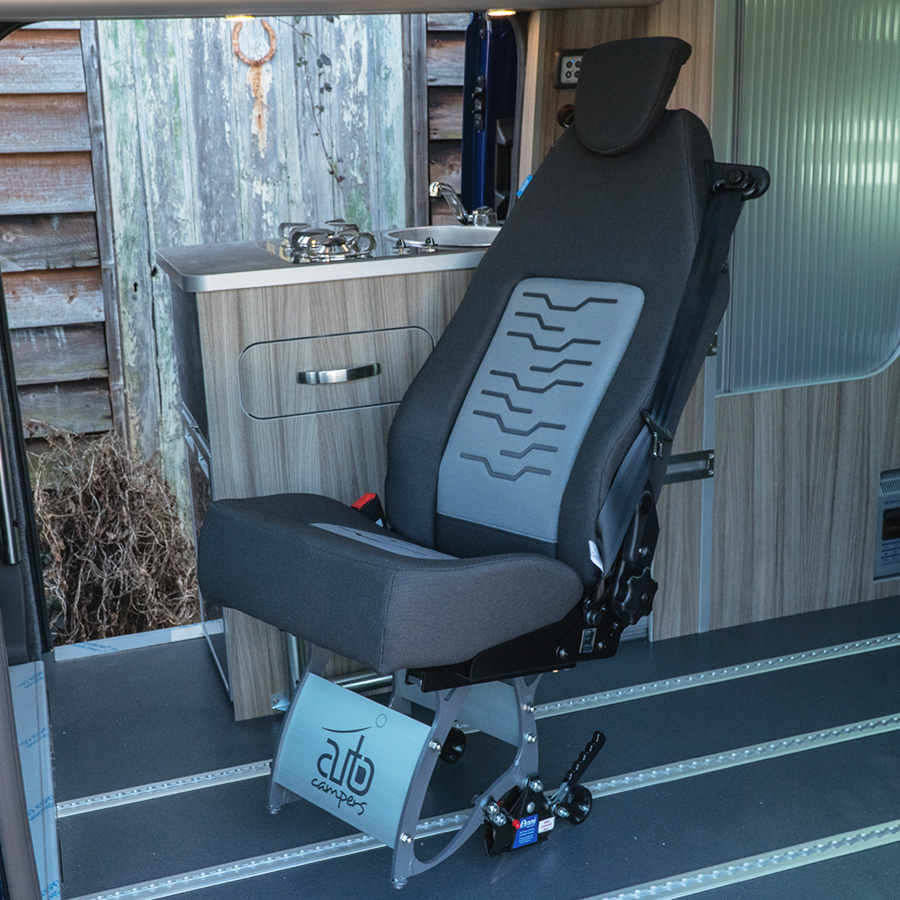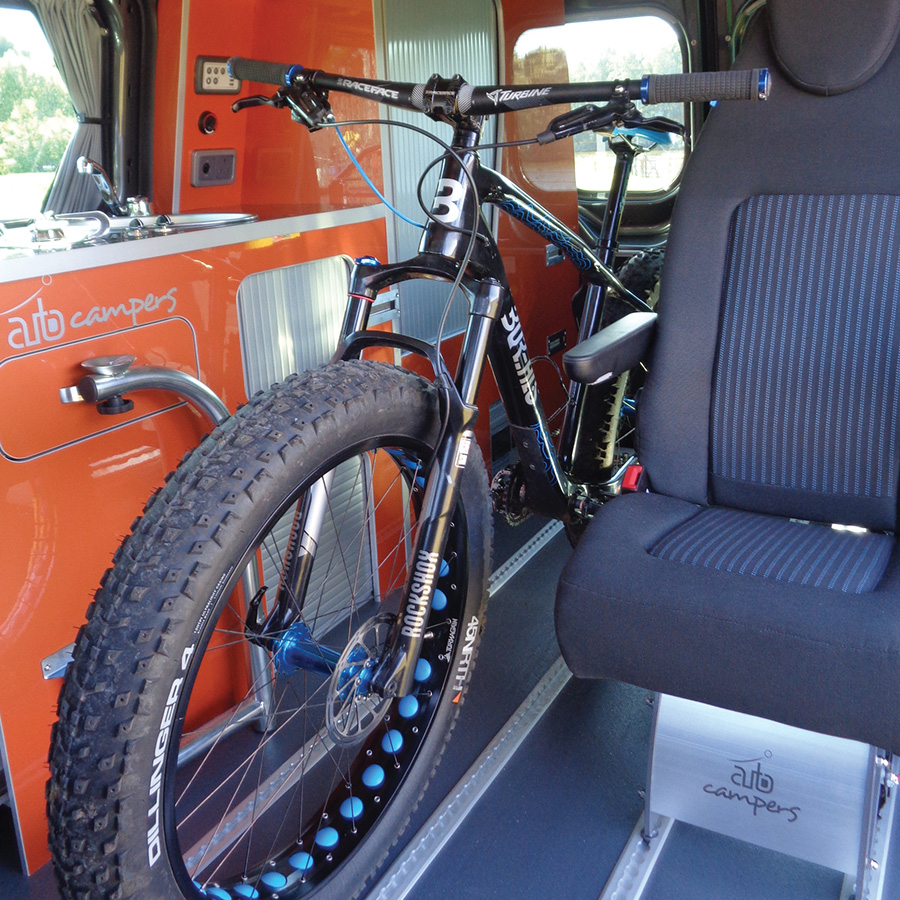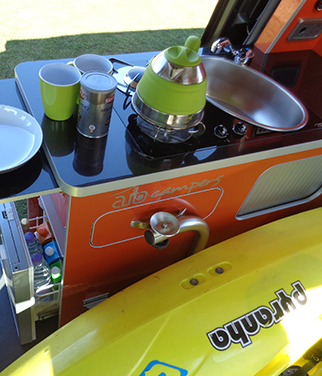 Auto Campers trademark inside / outside optimisation is shared with its' sibling Day and Leisure Vans with an accessible low consumption 50ltr compressor drawer fridge with integral ice box that can be removed giving clever added flexibility. Flip up worktop extension and flip up outdoor shelf creates a natural social hub adjacent to your amenities. Whilst an optional cassette awning provides a sun shade and helps define your outdoor, for further comfort and flexibility a drive away awning can be clipped to the opposite side door.
2 x gas rings sit adjacent to a stainless steel deep oval sink and chrome finished tap all set into a black easy clean glass base which in turn is rebated into a high pressure laminated work top, The quality of craftsmanship and the detail would not be out of place in a super yacht.
Heating, Cooling & Electrics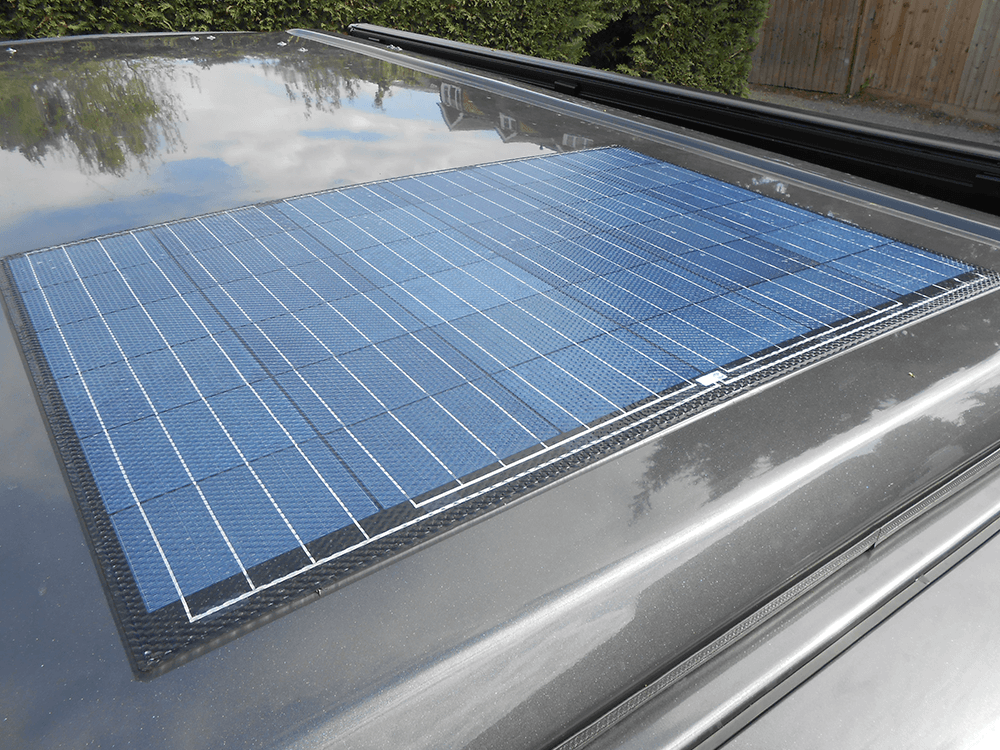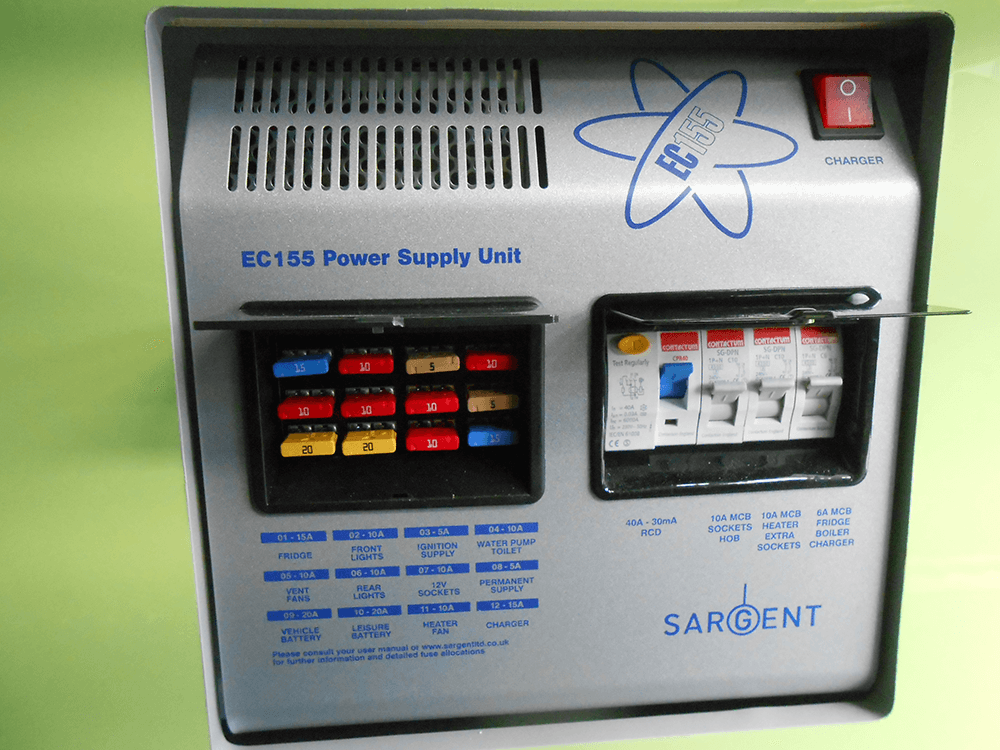 Keep warm with either the Gas free diesel hob / heater or specify the optional thermostatically controlled blown diesel 2KW Webasto heater which can provide comfort for rear passengers when on the move or a snug environment when parked up on a winters day. Stay cool optional Cab air conditioning when on the move.
A 115AH leisure battery is charged from the vehicles 150AH alternator and is independently switched via a automatic split relay within a comprehensive electrical system providing 12V at any time and 240V when hooked up. Plus an intelligent charger maintains both Leisure and vehicle batteries. Lighting is LED and switched either independently or on a circuit. 100W solar panel supports battery when off grid.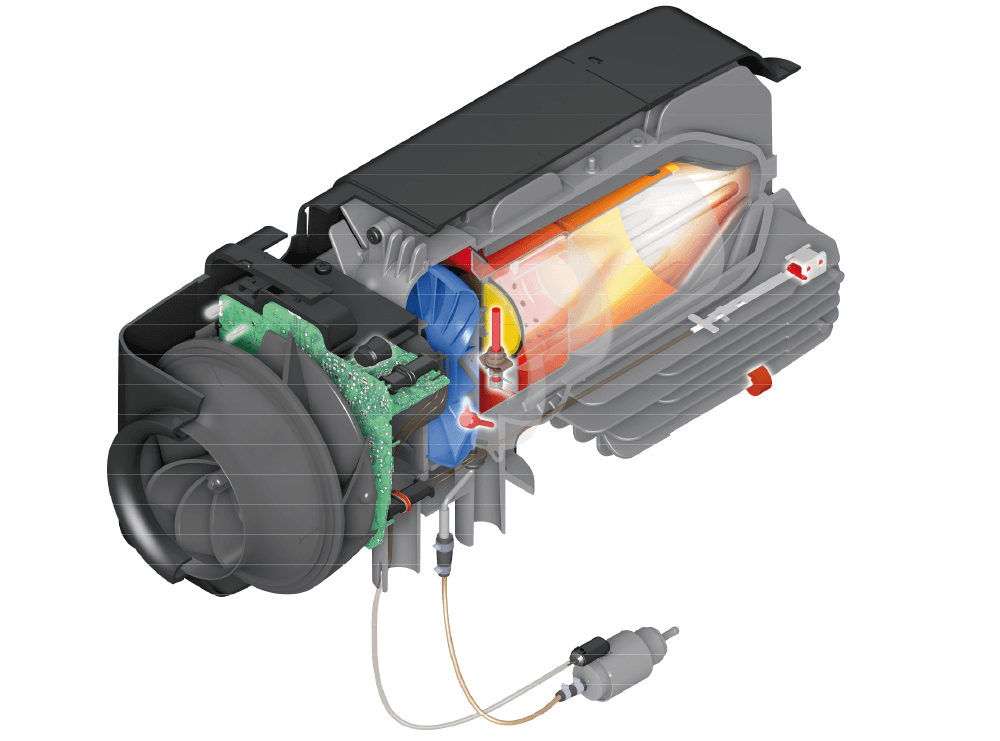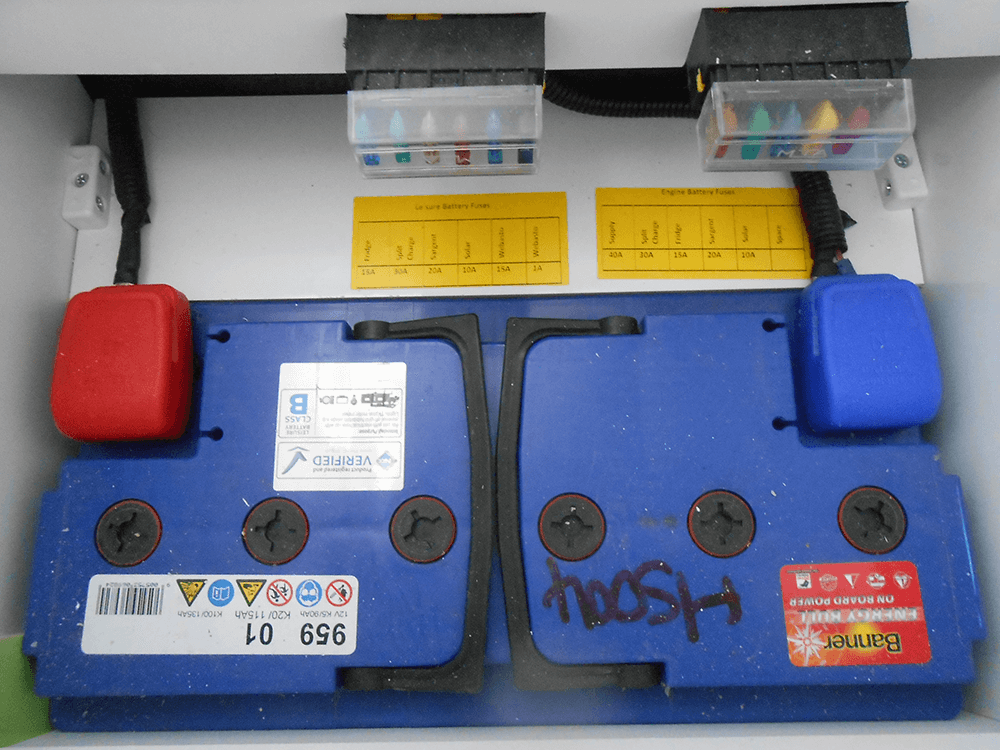 A 115AH leisure battery is charged from the vehicles 150AH alternator and is independently switched via a automatic split relay within a comprehensive electrical system providing 12V at any time and 240V when hooked up. Plus an intelligent charger maintains both Leisure and vehicle batteries. Lighting is LED and switched either independently or on a circuit. 100W solar panel supports battery when off grid.
Timeless high gloss white furniture and silver tambour doors contrast with pragmatic textured slate worktop laminate with a strong poplar ply core offering a robust high-end finish.
Beige if definitely NOT an Auto camper option, however Green, orange and driftwood are popular alternative cost options.
Ford charcoal fabric provides a durable automotive interior trim solution. Leather can be explored as a bespoke option, please ask.
Ford & VW offer a great choice of colours including Metallic paint as a no cost option, see below for popular choices, further options available.
SLATE WORKTOPS & TABLE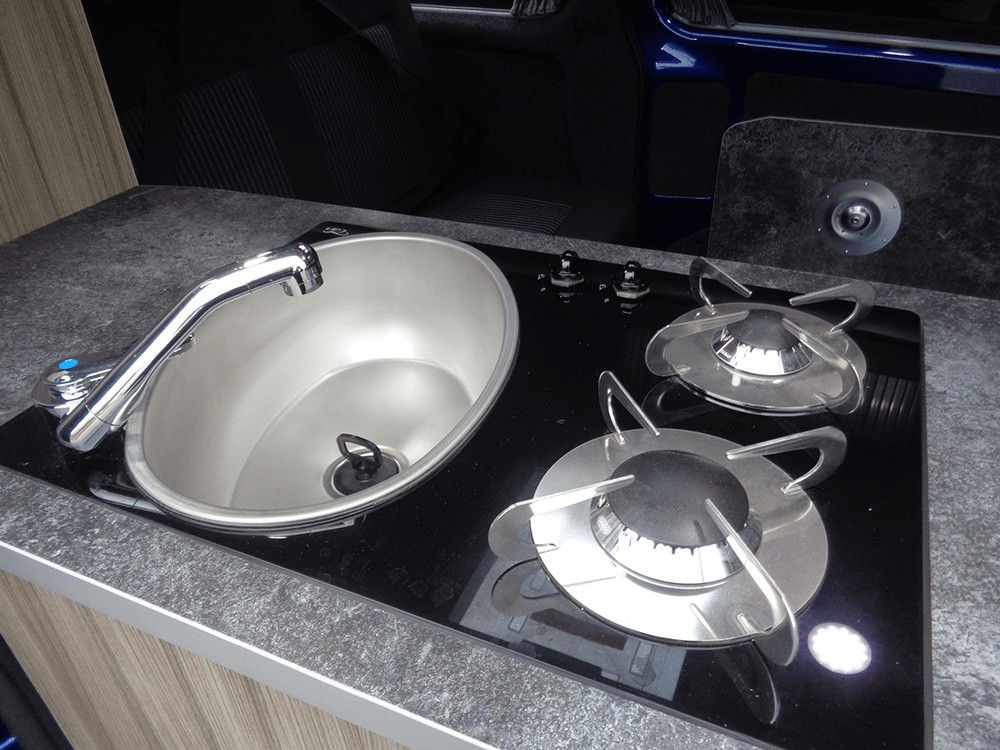 White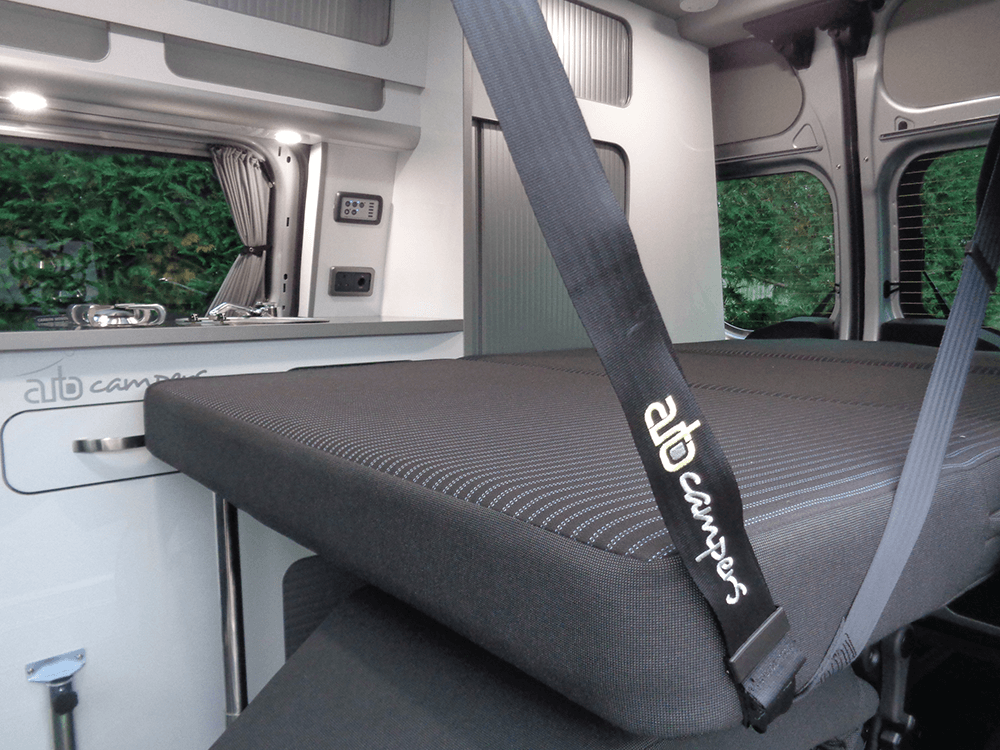 Orange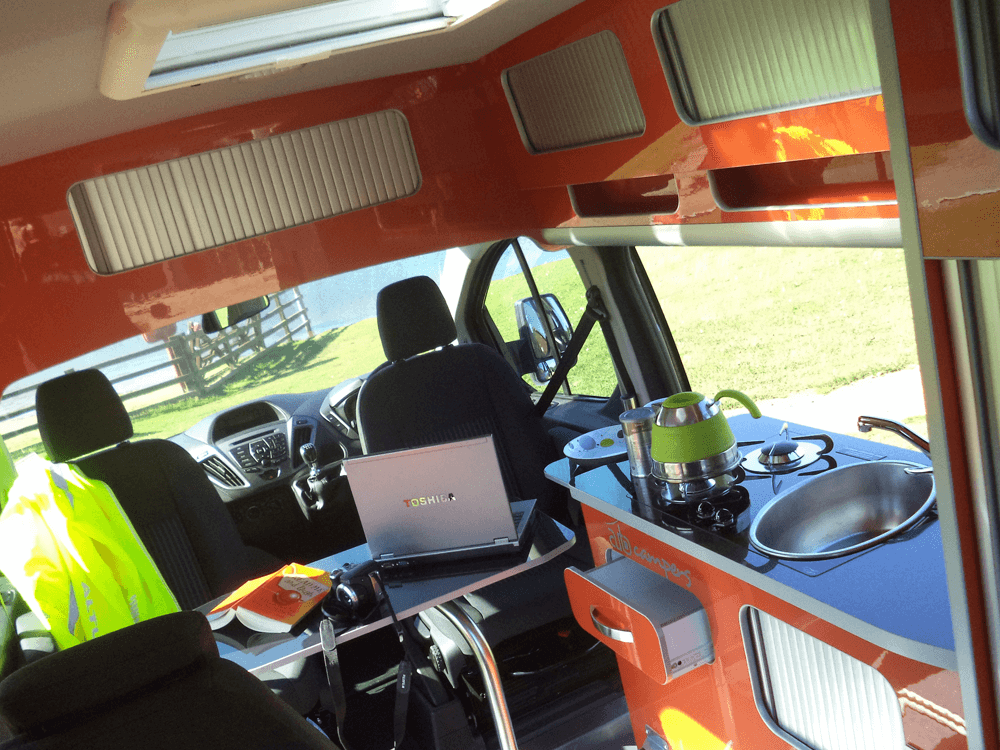 Driftwood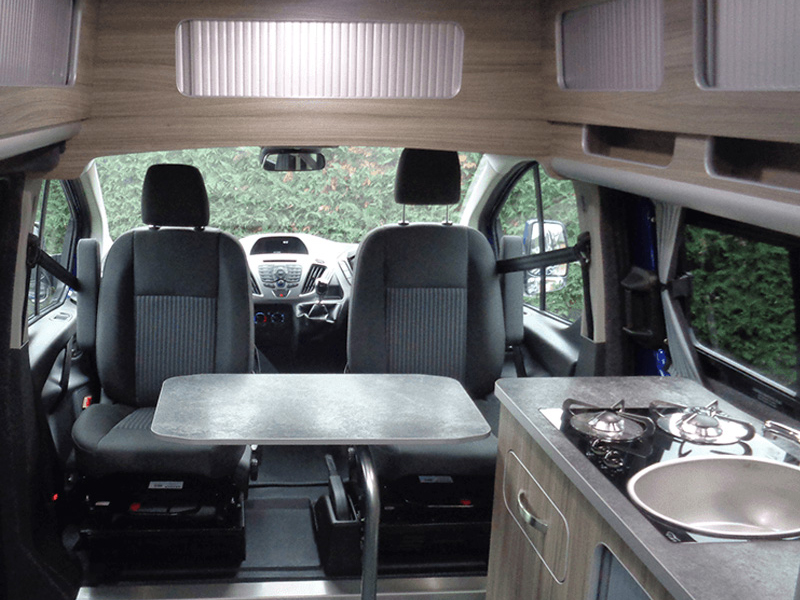 Green
External fresh & grey polypropylene water tanks are mounted below the floor in chassis voids to optimise internal stowage, accessible taps allow convenient drainage of grey water tank and easy draining of fresh water system for winter use. High output pump provides ample flow to sink and optional external shower.
A standard 907 Camping Gaz bottle is conveniently accessible and safely stored in a steel gas box with drop vent and regulator, providing propane gas to a double hob with 12V piezo ignition, all gas and electrical work is tested and certificated.
The MRV's adaptable floor plan and optional M1 tested bonded floor provides the perfect platform for a wide range of mobility options. The floor originates and is widely used in wheelchair accessible vehicles it is compatible with wheelchair and occupant restraints, plus we use our extensive engineering knowledge to fit approved steps, lifts, ramps & hoists.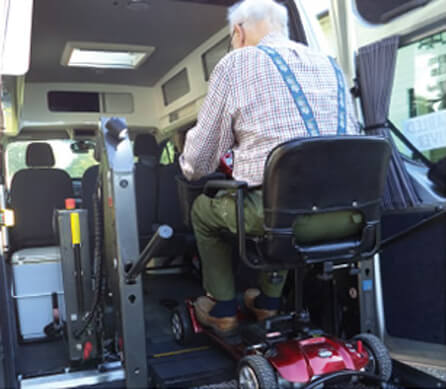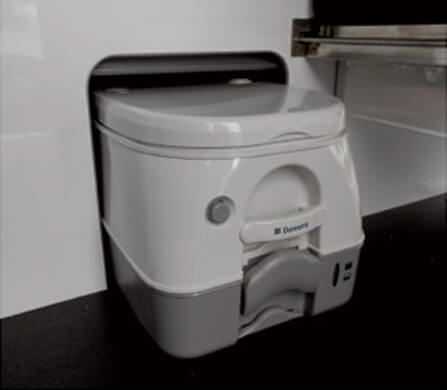 All Auto Camper models have a storage provision for an optional Dometic 976 portable toilet with pressurized clean water cistern, push button flush and 10ltr capacity.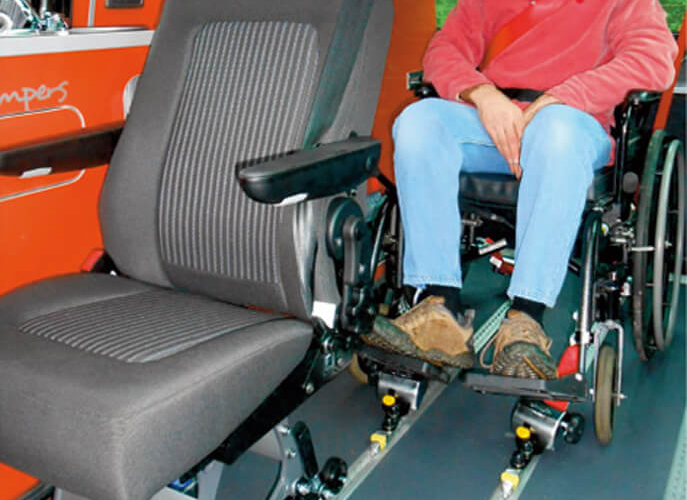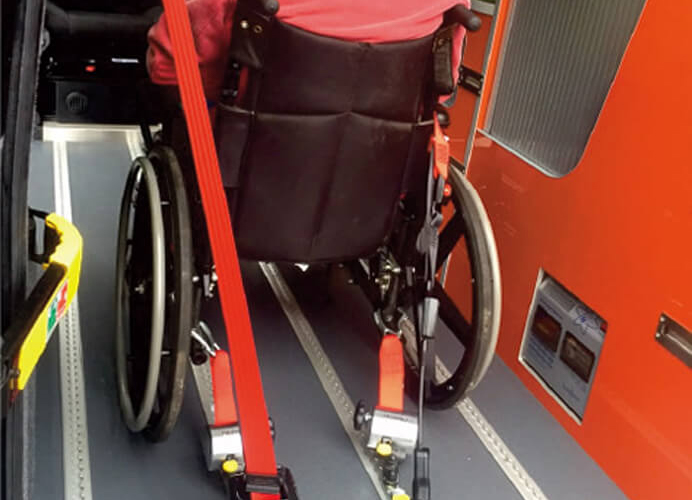 Subject to a wheelchair user or family member benefiting from a genuine and regular use of a permanently adapted Camper, it may be possible to zero rate VAT.