FORD OR VOLKSWAGON
LO-LINE, POP TOP OR HI-LINE
4 TRAVEL SEATS
2-4 BERTHS
TWIN SIDE DOORS
EAT IN OR EAT OUT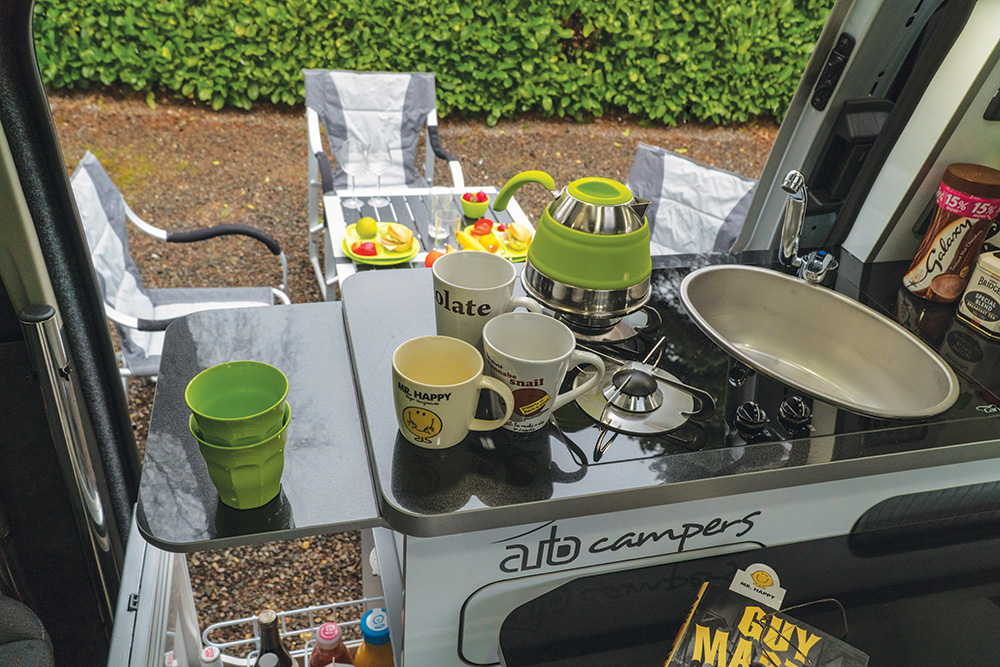 Q: WHY IS THE LEISURE VAN DIFFERENT?
A: The Leisure van is similar to the Classic with a mid-mounted double rock n' roll style seat / bed , however it's evolved to include twin side doors that exploit the inside / outside kitchen, plus the furniture is set back to allow the driver's seat to swivel and seat 4 people comfortably.
Q: WHY CONSIDER A LEISURE VAN?
A: Perfect for a couple or family who want an easy transition from travel layout to relaxed lounging and to a sleeping layout. The multi position reclining mid mounted seat / bed offers generous living accommodation combined with the swivel cab seats plus flexible storage.
Q: WHY ARE TWIN HABITATION DOORS IMPORTANT?
A: Exploit the benefits of the drawer fridge and accessible hob / sink from inside or outside. Relax comfortably inside on a Summers day with ample leg room and cool cross ventilation, plus you feel a connection with outside and the internal space feels bigger.
Q: WHY AUTO CAMPERS?
A: Exceptional award winning, Innovation, specification, quality and value.
LO-LINE
Lowest roof – Best accessibility
Ford folding roof rack option
Lowest risk for damage
Most affordable
Drive without hesitation
HI-LINE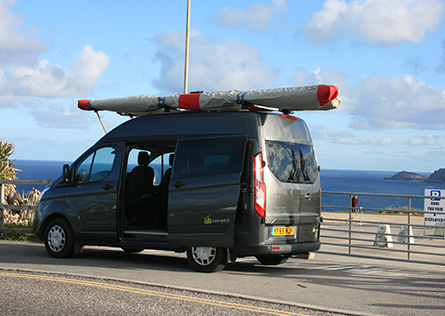 Best all year round insulation
Permanent day light/vent option
Max storage with locker option
Strong Ford factory steel roof
All year round headroom
Subtle roof line & silhouette
POP-TOP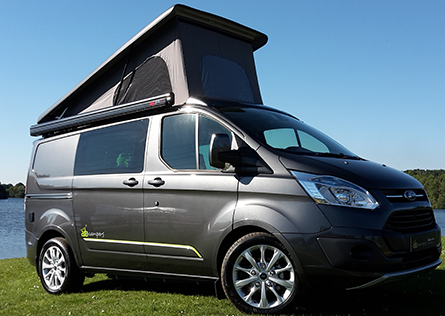 MPV aesthetics
Roof bed option (4 berth)
Max inside space (roof up)
Best of both worlds (roof down)
Coolest in Summertime
Adult or children's roof bed
Base vehicle choices & specification
Buy with the heart – iconic camper for 40 years
Compact footprint – narrow for city commuting
Pop top can be under 2.0mtrs
4-wheel drive option available
High output 204ps & DSG options available
OR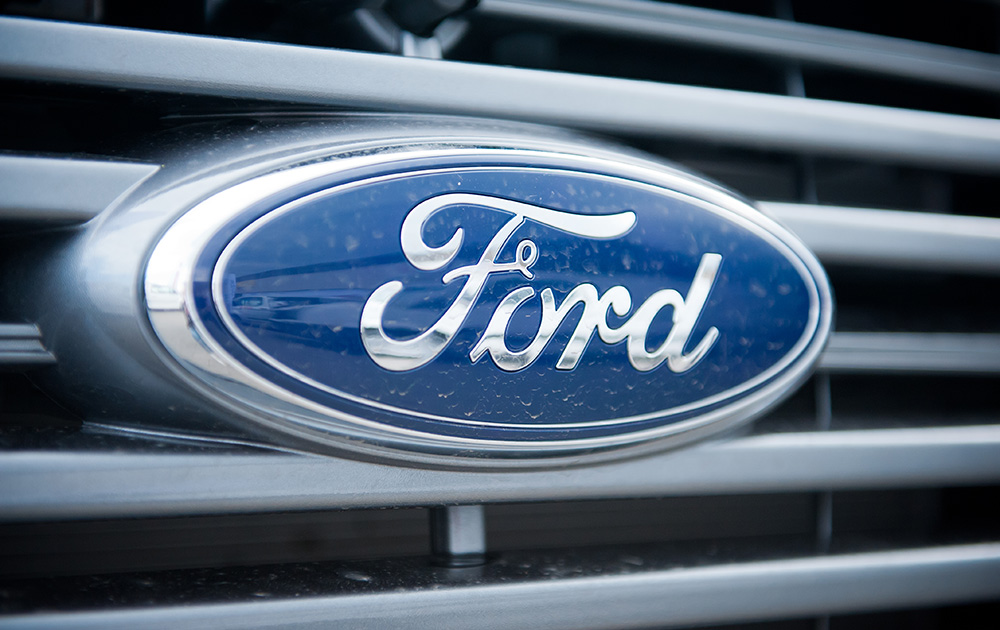 Refined car comfort and attractive kinetic design
Available in all 3 roof options, Lo. Hi & Pop top
6 speed manual or Automatic
Tremendous value & strong residual value
Deeper storage, wider roof space / bed
ENGINES & TRANSMISSIONS
Auto Camper believe the conversion element of a Camper simulates a partial load, and specify Ford 130ps & VW 150ps medium output engines for ample performance balanced against economy.  6 speed manual transmission is standard, alternatively VW DSG gearbox or Ford Automatic transmission is an option, for ultimate performance and torque, spoil yourself with VW's 204 ps or Ford's 170ps high output engines.
VARIANT
All Auto Campers are based on the L1 short wheelbase model for optimum manoeuvrability and easy parking.  Standard specification includes, parking sensors, power windows & mirrors, heated windscreen, DAB radio, Metallic paint, wheel trims and colour coded bumper are just a few standard options, the 170ps Ford Limited model is similar to VW's Highline model by including Air con, Alloys and full colour coding. Safety is paramount including driver & passenger airbags, ABS & various traction control systems.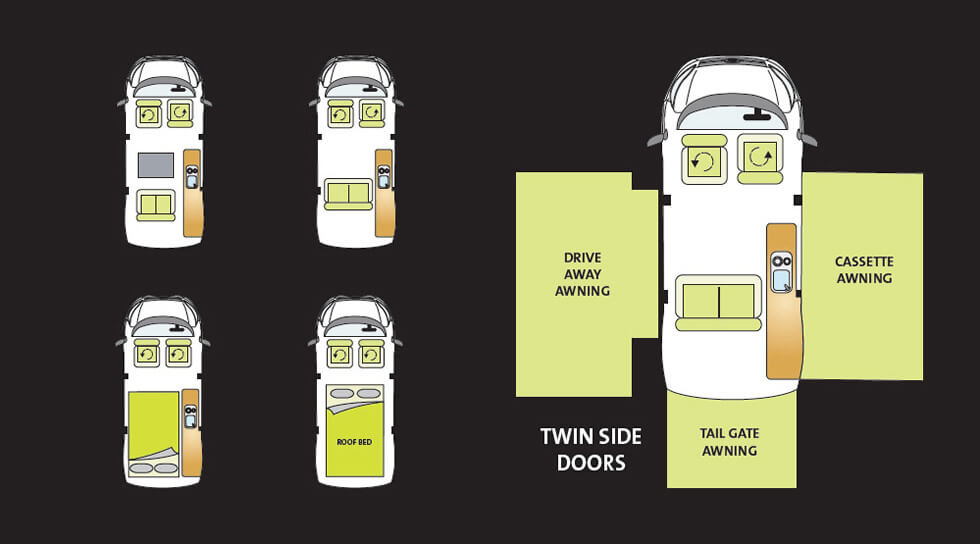 Optimum habitation space is exploited with swivel driver and passenger seats, relax in a sculptured 8 way adjustable reclining seat with ample leg room designed for ultimate driver and passenger comfort.
Passengers travel securely in a generous full width mid mount rear, double, M1 tested seat providing a sociable space between rear and cab seats to relax, easy access to kitchen and ample room for the large table securely mounted on a double cranked leg.
Uniquely the rear seat can be set in 12 recline positions and the rear pivoting section can be locked in 5 positions for you to sit up in bed and read your favourite novel or enjoy an early morning cuppa! A portable toilet can be stored under the seat along with a drawer ideal for storage of outdoor equipment.
For families, a drive-a-way awning creates space to decant the contents of your boot and provides additional or alternative berth options or just a welcoming social space for longer trips.
Only the Pop top model provides 2 additional berths in the optional roof bed, the roof bed in the Transit Custom is wider than the VW.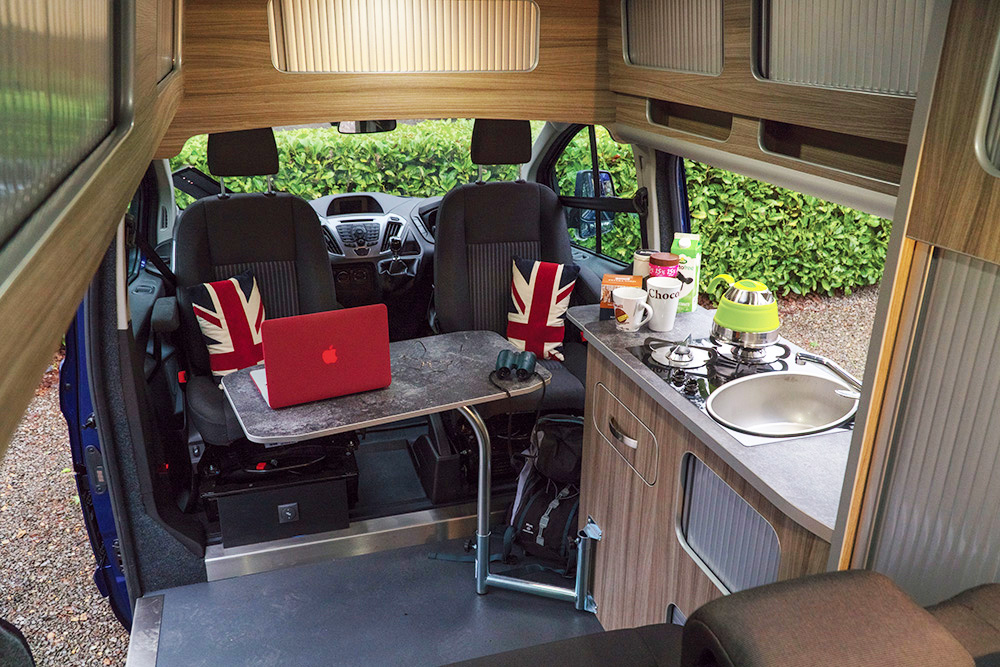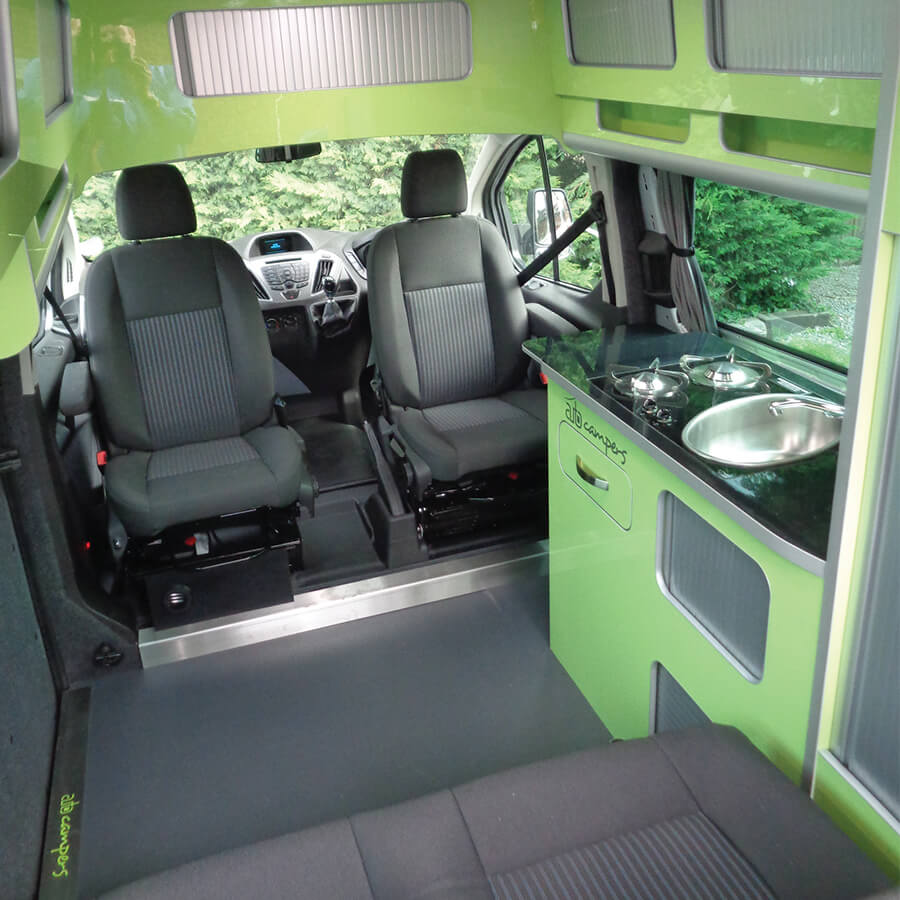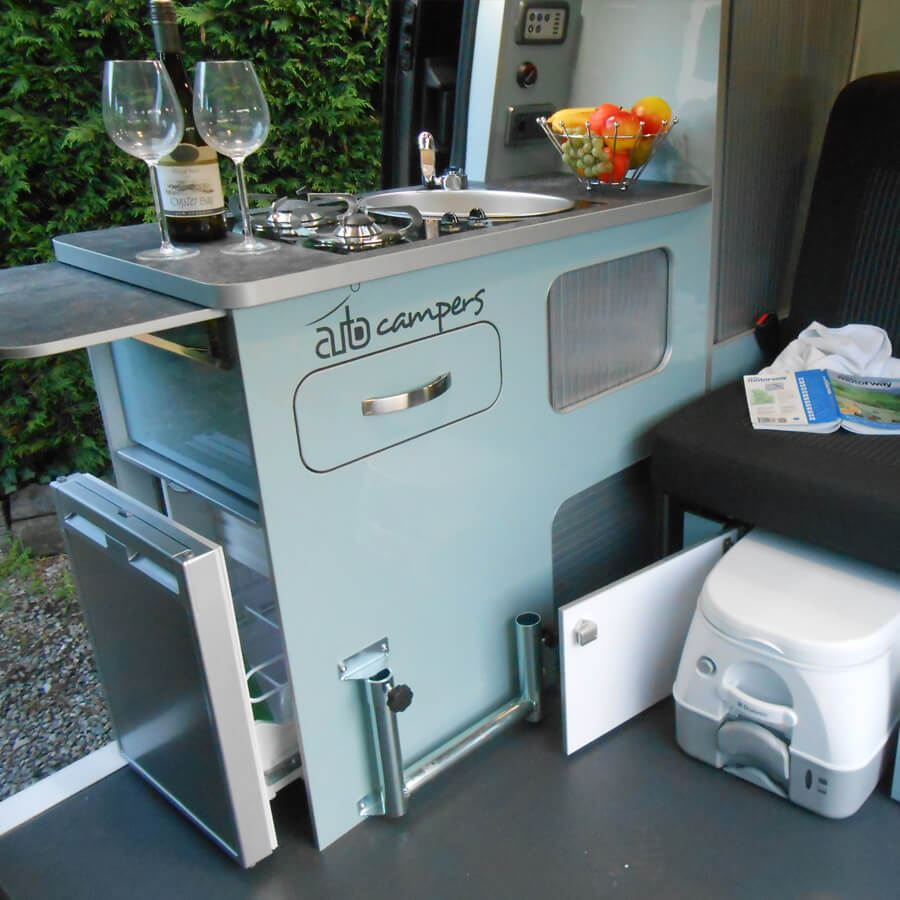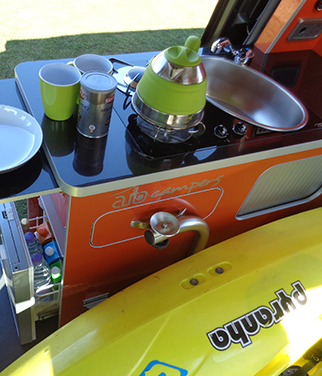 Auto Campers trademark twin side doors, optimise both the inside and outside kitchen with a low consumption 50ltr compressor drawer fridge with integral ice box which can be removed giving clever added flexibility. 2 x gas rings sit adjacent to a stainless steel deep oval sink and chrome finished tap all set into a black easy clean glass base which in turn is rebated into a high pressure laminated work top, The quality of craftsmanship and the detail would not be out of place in a super yacht moored in Monaco.
Generous and pragmatic flip up worktop extension and outdoor shelf creates a natural social hub adjacent to your amenities. Whilst an optional cassette awning provides a sun shade and helps define your outdoor space. For further comfort and flexibility a drive away awning or tailgate awning can be clipped to the opposite side door or Tailgate. Kitchen stowage is pragmatic with a generous drawer and two cupboards under the sink area, the optional Dometic portable loo can be stowed away from the kitchen under the double seat.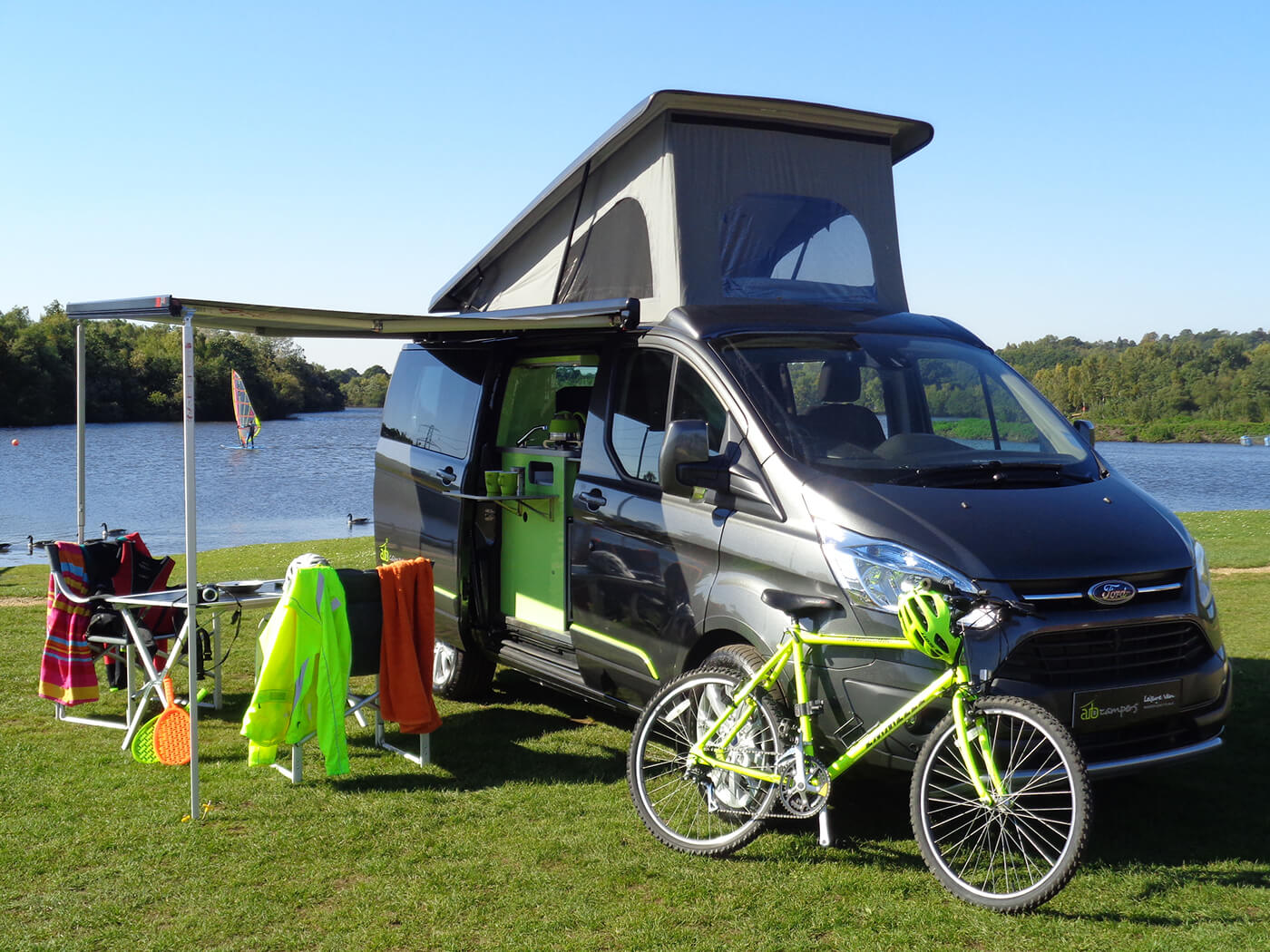 Heating, Cooling & Electrics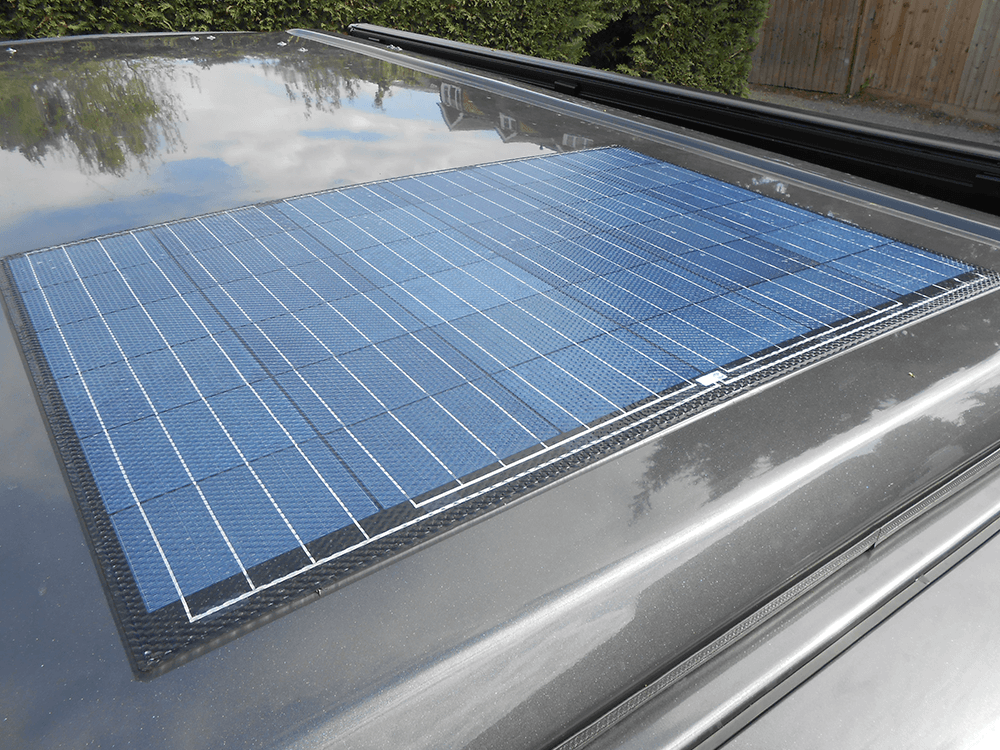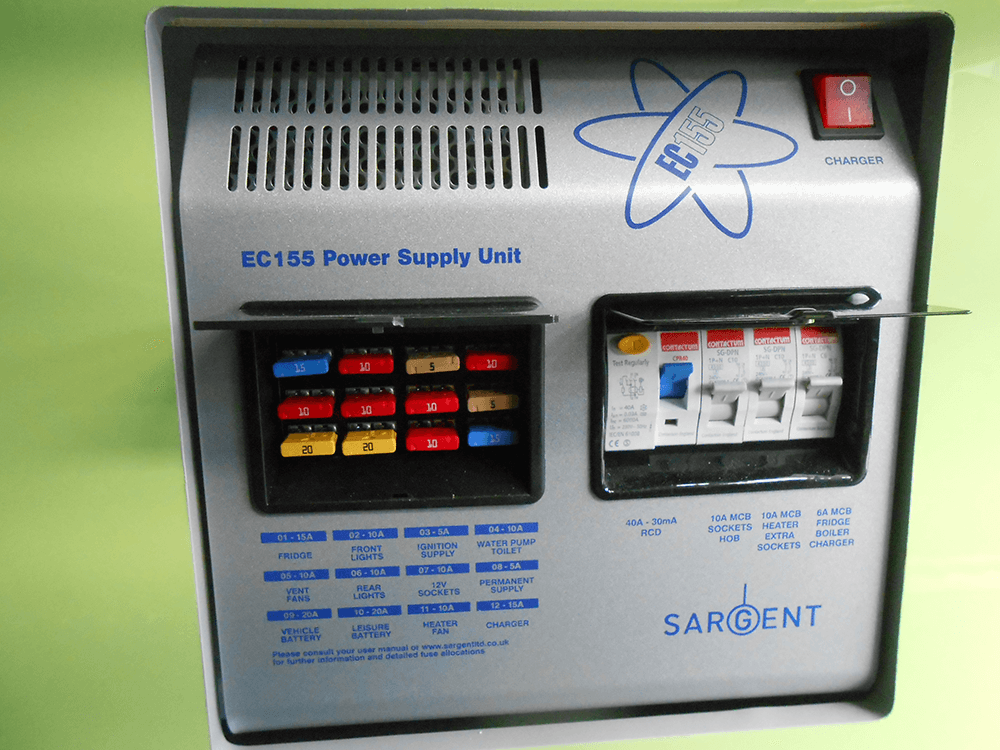 Keep warm with either the Gas free diesel hob / heater or specify the optional thermostatically controlled blown diesel 2KW Webasto heater which can provide comfort for rear passengers when on the move or a snug environment when parked up on a winters day. Stay cool optional Cab air conditioning when on the move.
A 115AH leisure battery is charged from the vehicles 150AH alternator and is independently switched via a automatic split relay within a comprehensive electrical system providing 12V at any time and 240V when hooked up. Plus an intelligent charger maintains both Leisure and vehicle batteries. Lighting is LED and switched either independently or on a circuit. 100W solar panel supports battery when off grid.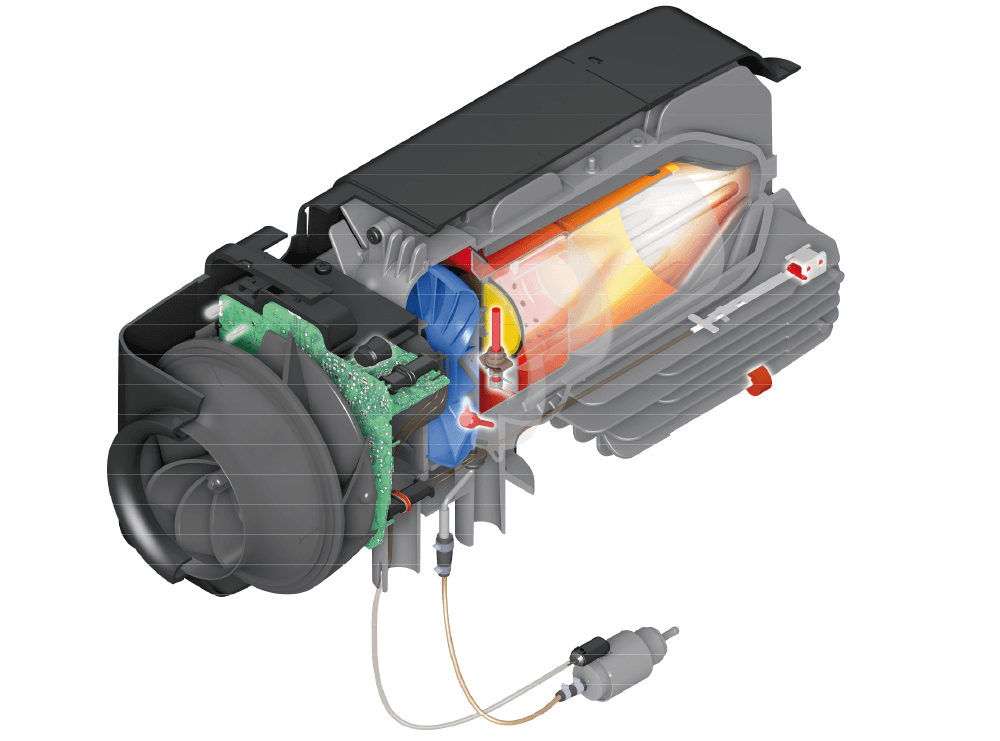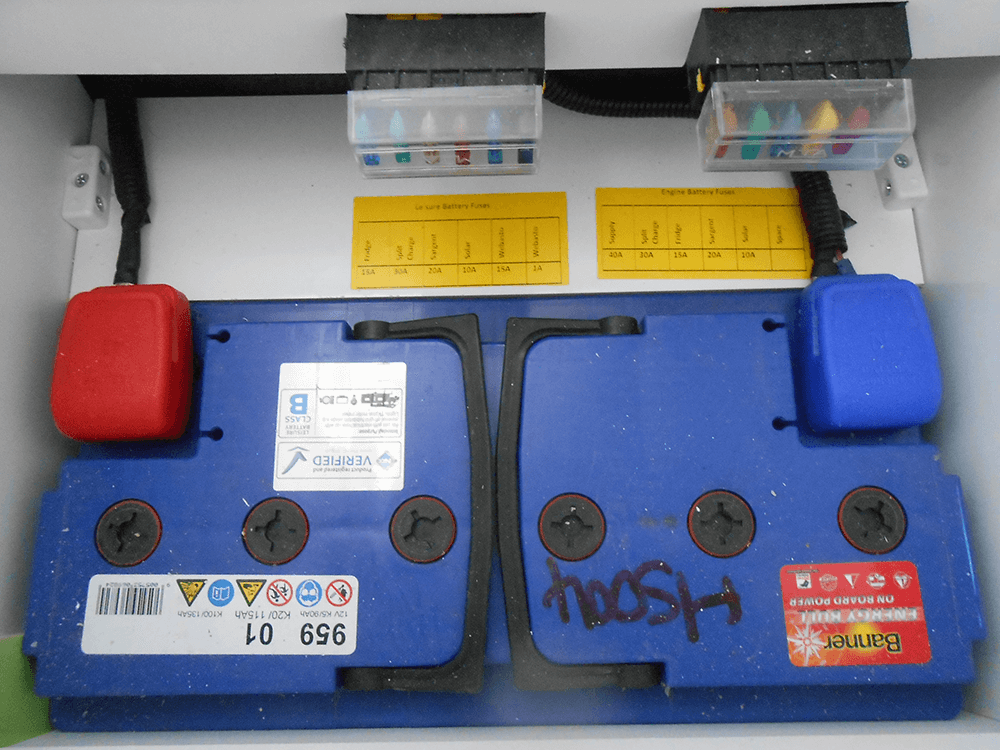 Timeless high gloss white furniture and silver tambour doors contrast with pragmatic textured slate worktop laminate with a strong poplar ply core to offer a robust high-end finish.
Beige if definitely NOT an Auto camper options, however Green, orange and driftwood are popular alternative cost options.
Ford charcoal fabric provides a durable automotive interior trim solution. Leather can be explored as a bespoke option, please ask.
DUCK EGG BLUE
Slate Worktops & Table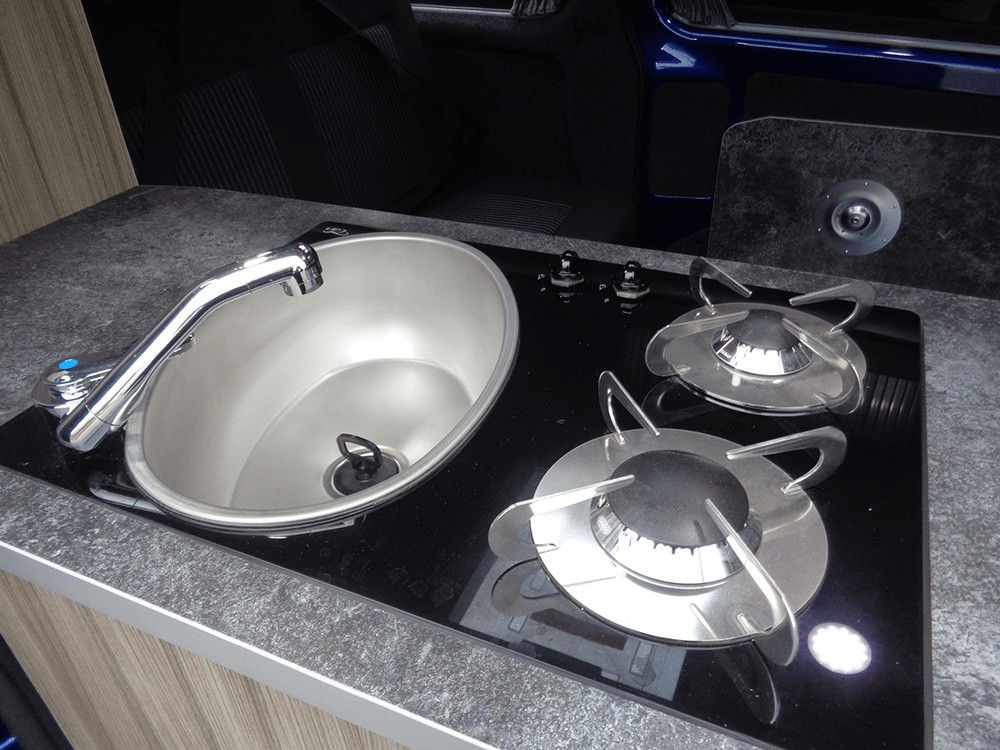 White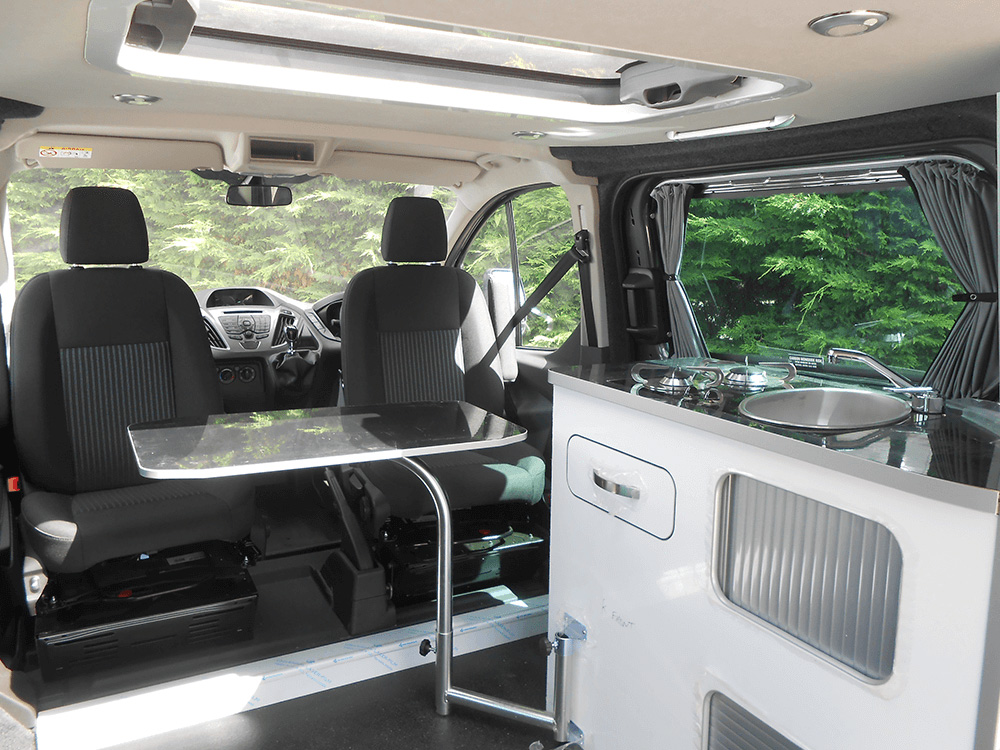 Orange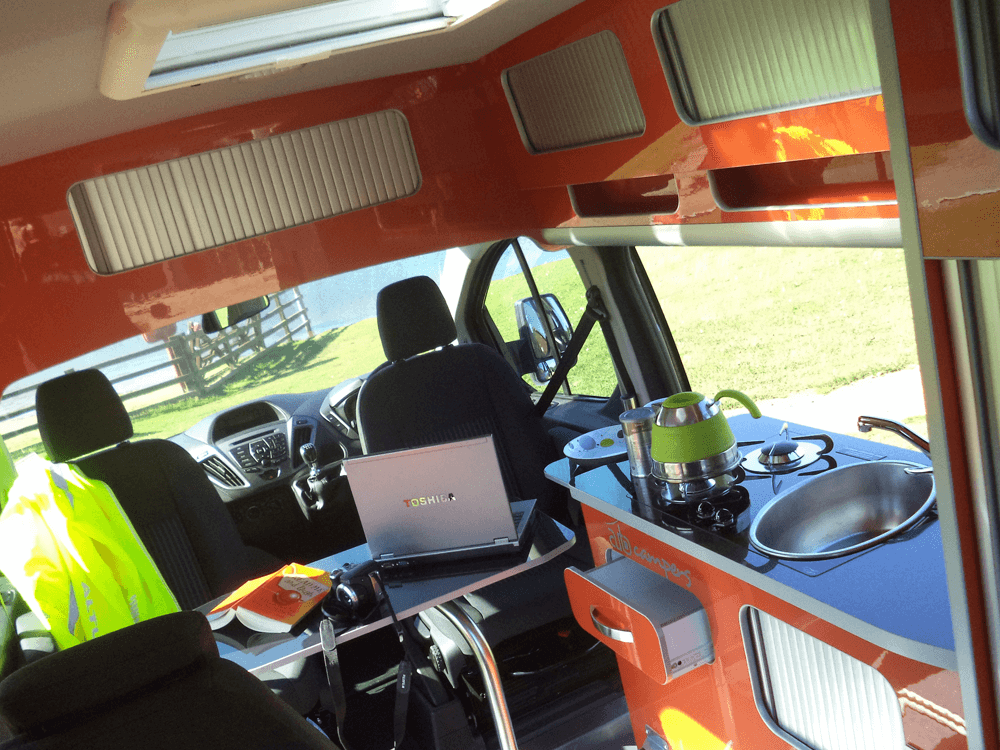 Driftwood
Green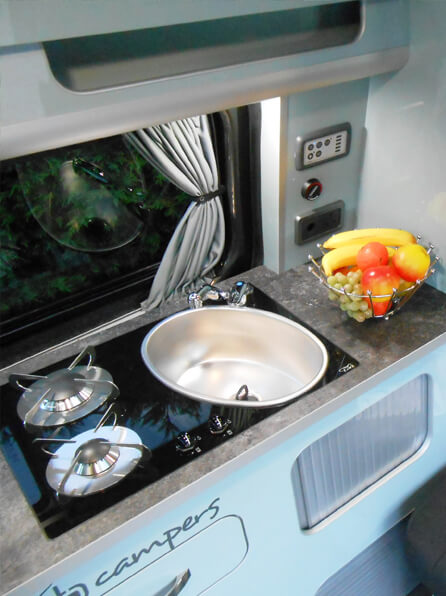 External fresh & grey polypropylene water tanks are mounted below the floor in chassis voids to optimise internal stowage, accessible taps allow convenient drainage of grey water tank and easy draining of fresh water system for winter use. High output pump provides ample flow to sink and optional external shower.
A standard 907 Camping Gaz bottle is conveniently accessible and safely stored in a steel gas box with drop vent and regulator, providing propane gas to a double hob with 12V piezo ignition, all gas and electrical work is tested and certificated.
Ford
External Length 4972mm / 16'4"
External Height 1972mm-2020mm/6'6"- 6'7.5"
External Width 2080mm / 6' 10"
Berths 2
Fuel Tank Capacity 80ltrs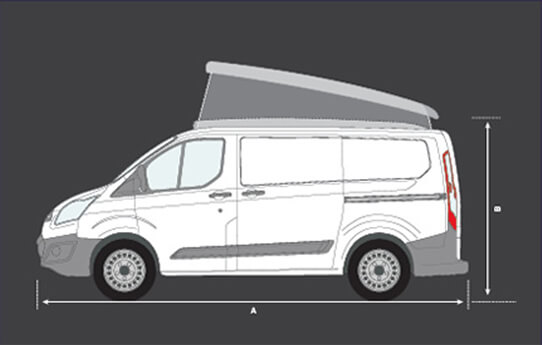 Ford
External Length 4972mm / 16'4"
External Height 2100mm / 6'9"
External Width 2080mm / 6' 10"
Berths 2-4
Fuel Tank Capacity 80ltrs
Ford
External Length 4972mm / 16'4"
External Height 2440mm / 8'0"
External Width 2080mm / 6' 10"
Berths 2
Fuel Tank Capacity 80ltrs