Traditional layout, 4 travel seats
Lo-line, Hi-Line or pop top
Ford or Volkswagen
Unique M1 test mid mount reclining seat / bed
Wide range of engines & specification
Gas free Diesel option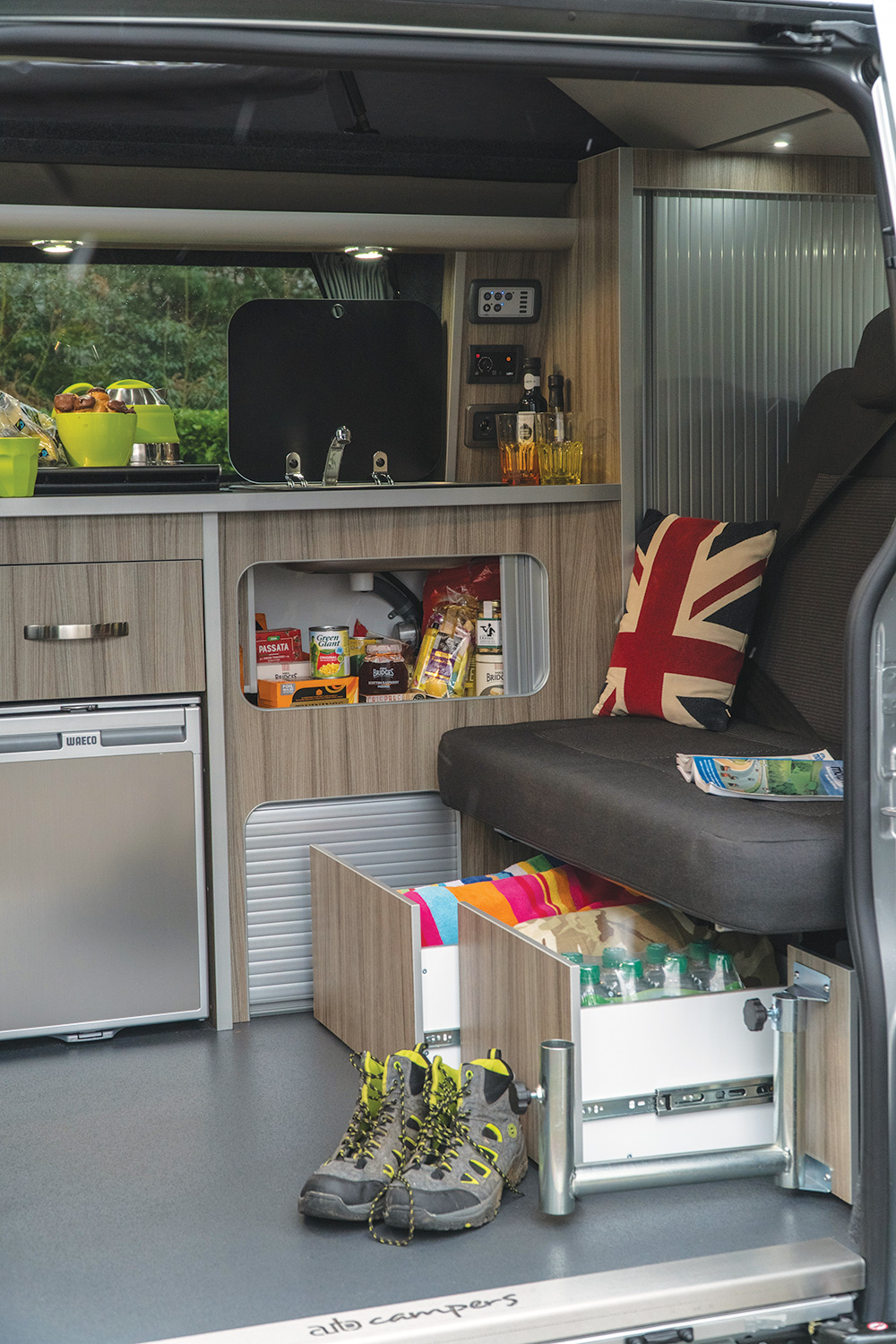 Q: CAN I USE A CAMPER AS MY PRIMARY OR SECONDARY TRANSPORT?
A: Yes! At only 4.9mtr long and under 2mtrs wide, all Auto Camper models will squeeze on a 4.8mtr parking bay with ample width to spare. Height barriers will occasionally prohibit access. However, a camper is not just about holidays, a Camper has such a compact footprint it can provide "Opportunity" on any journey and gives you the freedom to make your own choices anywhere and anytime…..
Q: WHY SO MANY OPTIONS?
A: Affordability is important, Auto Campers offer menu pricing so you can configure a Camper that best meets your budget and life style, what might be important to you may be less important to another. You have the choice to configure a Camper that supports your lifestyle.
Q: WHY A MID MOUNTED SEAT / BED?
A: Think about storage and how you hope to use available habitation space at all times of the day. The Mid mount position provides easy access to the kitchen area and comfortable lounging space, the bed lays against the rear doors providing valuable "manoeuvring" space adjacent to the cab seats to make that all import morning "Cuppa".
Q: WHY AUTO CAMPERS?
A: Exceptional value, Intelligent pragmatic design and most importantly – makes you smile!
LO-LINE
Lowest roof – Best accessibility
Ford folding roof rack option
Lowest risk for damage
Most affordable
Drive without hesitation
HI-LINE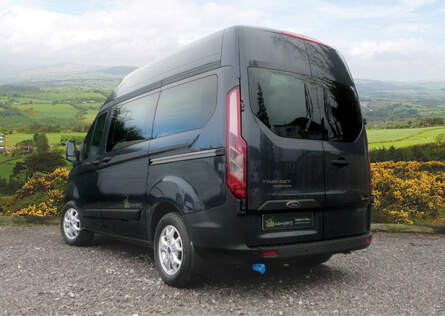 Best all year round insulation
Permanent day light/vent option
Max storage with locker option
Strong Ford factory steel roof
All year round headroom
Subtle roof line & silhouette
POP-TOP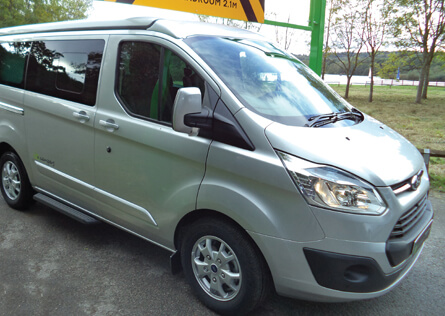 MPV aesthetics
Roof bed option (4 berth)
Max inside space (roof up)
Best of both worlds (roof down)
Coolest in Summertime
Adult or children's roof bed
Base vehicle choices & specification
Buy with the heart – iconic camper for 40 years
Compact footprint – narrow for city commuting
Pop top can be under 2.0mtrs
4-wheel drive option available
High output 204ps & DSG options available
OR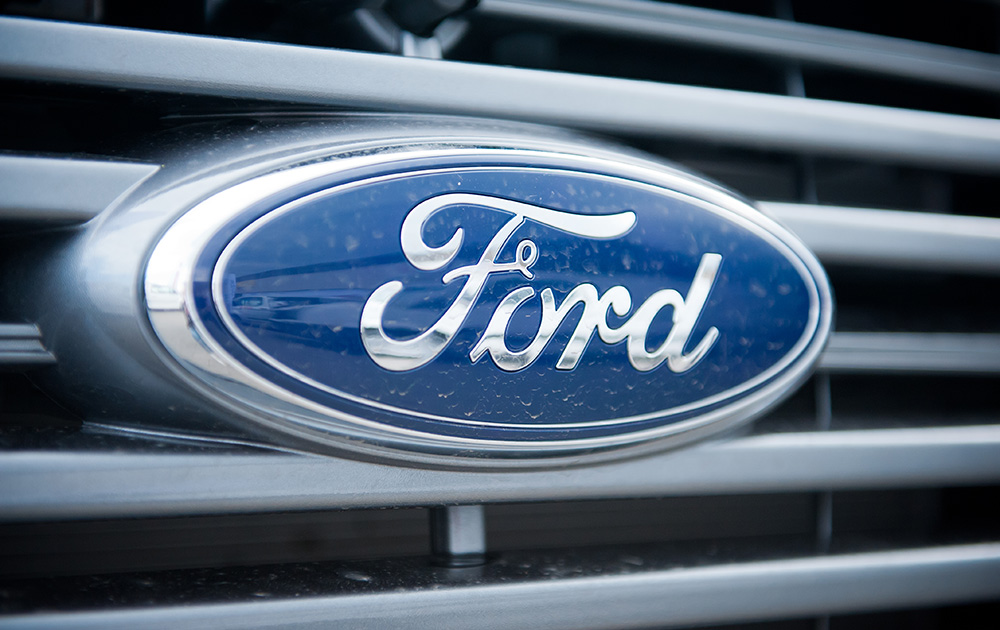 Refined car comfort and attractive kinetic design
Available in all 3 roof options, Lo. Hi & Pop top
6 speed manual or Automatic
Tremendous value & strong residual value
Deeper storage, wider roof space / bed
ENGINES & TRANSMISSIONS
The Classic is available with a comprehensive choice of engines and transmissions. From the mid-range 130/150ps to the ultimate 170/204ps high output models. Choose between manual, Auto, DSG and even VW's four motion all- wheel drive system.
VARIANT
All Auto Campers are based on the L1 short wheelbase model for optimum manoeuvrability and easy parking. Engines are typically married to  base vehicle specification, for example, the 130ps Ford is a Trend model including, parking sensors, power windows & mirrors, heated windscreen, DAB radio, Metallic paint, wheel trims and colour coded bumper are just a few options, plus, Auto Campers add Air conditioning to all Trend models. The high output 170ps Ford Limited model is similar to VW's Highline model and includes, Alloys and full colour coding driver & passenger airbags, alarm, plus ABS & various traction control systems. At only a £1,000 premium the Limited model is a popular option and great value for the ultimate specification Camper.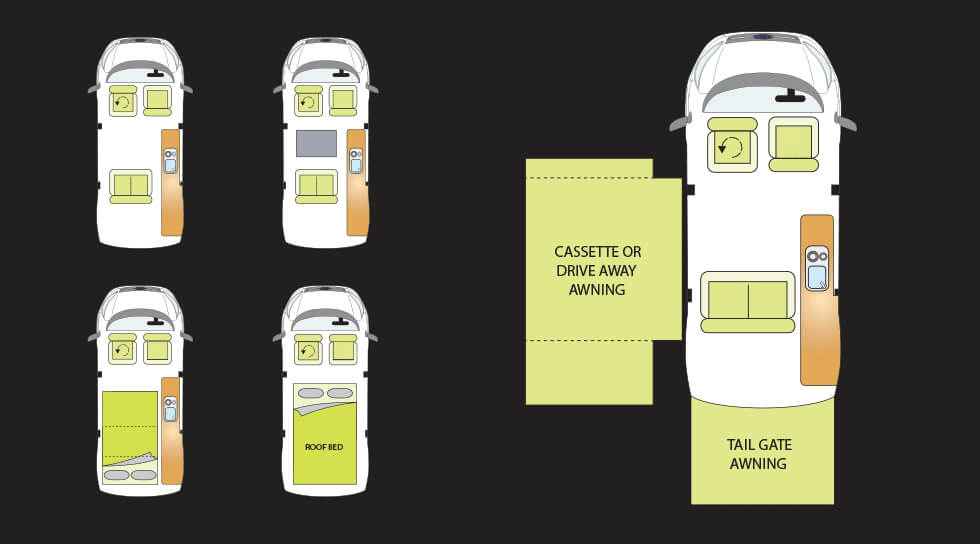 Optimum habitation space is exploited with the swivel single passenger cab seat. Passengers travel securely in a generous full width mid mount rear, double, M1 tested seat complete with head rests providing a sociable space between rear and cab seats to relax, easy access to kitchen and ample room for the large table securely mounted on a double cranked leg, pivoting off the rear seat frame.
Uniquely the rear seat can be set in 12 recline positions and the rear pivoting section can be locked in 5 positions for you to sit up in bed and read your favourite novel or enjoy an early morning cuppa! Two drawers push and open on secret catches further illustrating the quality and clean lines of edge-banded furniture.
The rear seat leaf folds vertically or sits horizontally to act as a heavy-duty parcel shelf convenient to store bedding and coats. Only the Pop top model provides 2 additional berths in the optional roof bed, the roof bed in the Transit Custom is wider than the VW.
There are many options to customise individual comfort, the mid mount seat is medium to firm, flat and remarkably comfortable, for those who prefer a softer mattress, explore Duvalay a clever polycotton system with an envelope for a memory foam topper and an envelope for a quilt, alternatively explore companies who make fitted sheets and toppers and quilts for the marine industry where bespoke shapes are typical.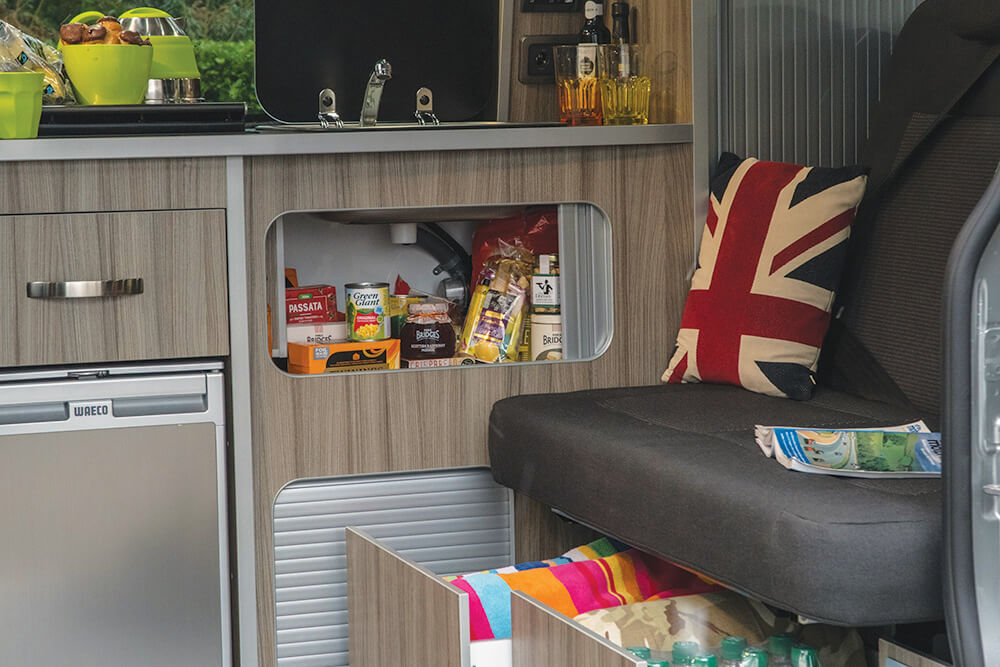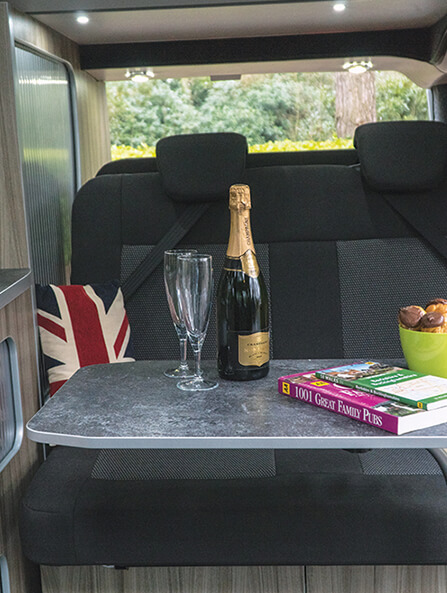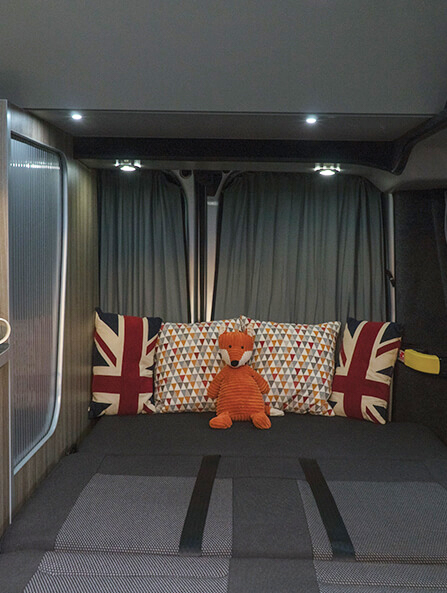 The combination dual burner gas hob and stainless-steel sink makes efficient use of work top with a split 2 piece glass lid which lays flush when not in use, adding to the clean lined furniture aesthetics.
A 907 Camping gaz cylinder which is convenient for the whole of Europe stores in a sealed powder coated steel box along with associated regulator and certified pipe work, Piezo ignition offer convenient ignition for the hob, whilst water is pumped through a dedicated pump from a tank beneath the vehicle floor.
A 50ltr compressor fridge/freezer cools efficiently with off grid performance enhanced by the 100w solar panel
Alternatively specify a gas free option with a diesel hob / Heater, the advantage of this option takes away all carbon monoxide risk and adds additional storage by omitting the gas box. The Wallas diesel hob also acts as a heater when the vehicle is stationary.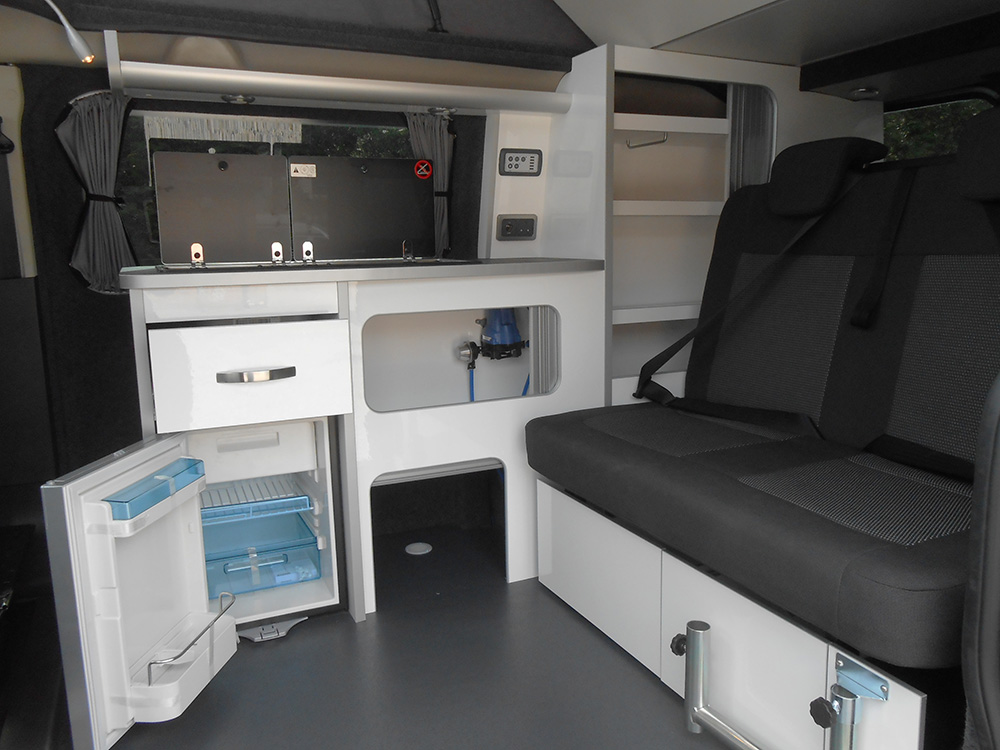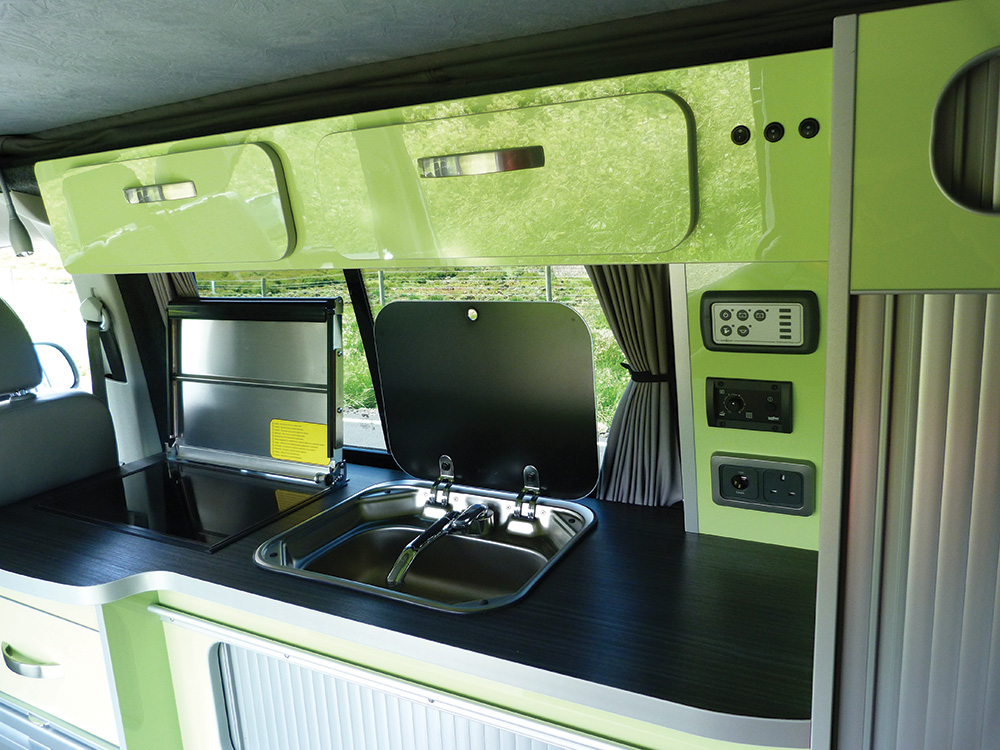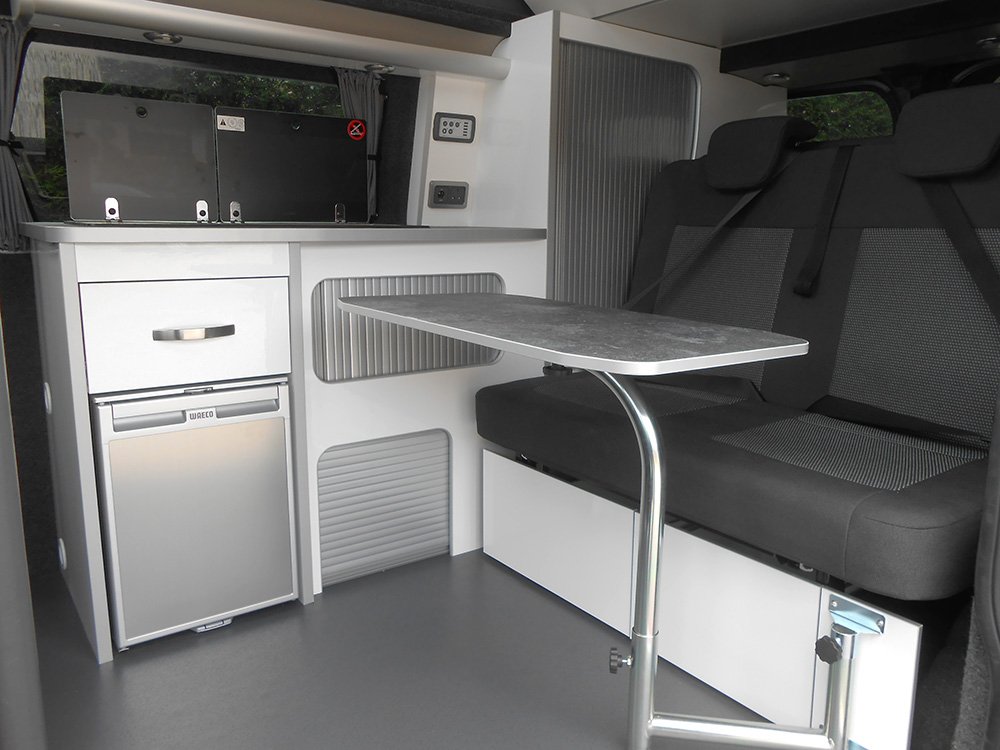 Heating, Cooling & Electrics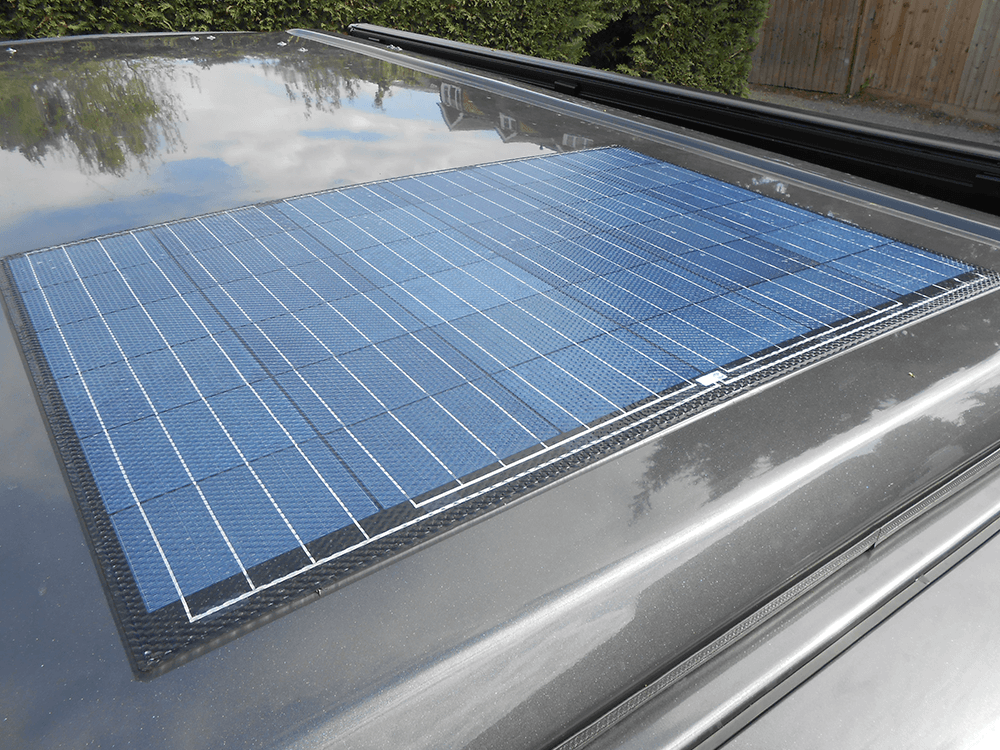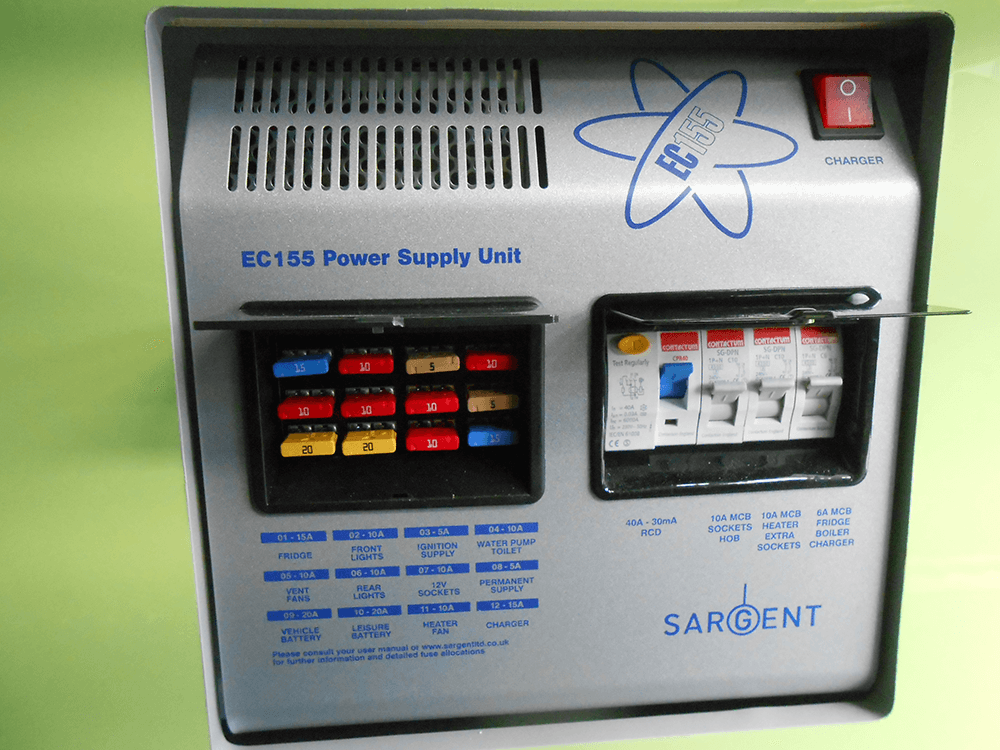 Keep warm with either the Gas free diesel hob / heater or specify the optional thermostatically controlled blown diesel 2KW Webasto heater which can provide comfort for rear passengers when on the move or a snug environment when parked up on a winters day. Stay cool Cab air conditioning when on the move.
A 115AH leisure battery is charged from the vehicles 150AH alternator and is independently switched via a automatic split relay within a comprehensive electrical system providing 12V at any time and 240V when hooked up. Plus an intelligent charger maintains both Leisure and vehicle batteries. Lighting is LED and switched either independently or on a circuit. 100W solar panel supports battery when off grid.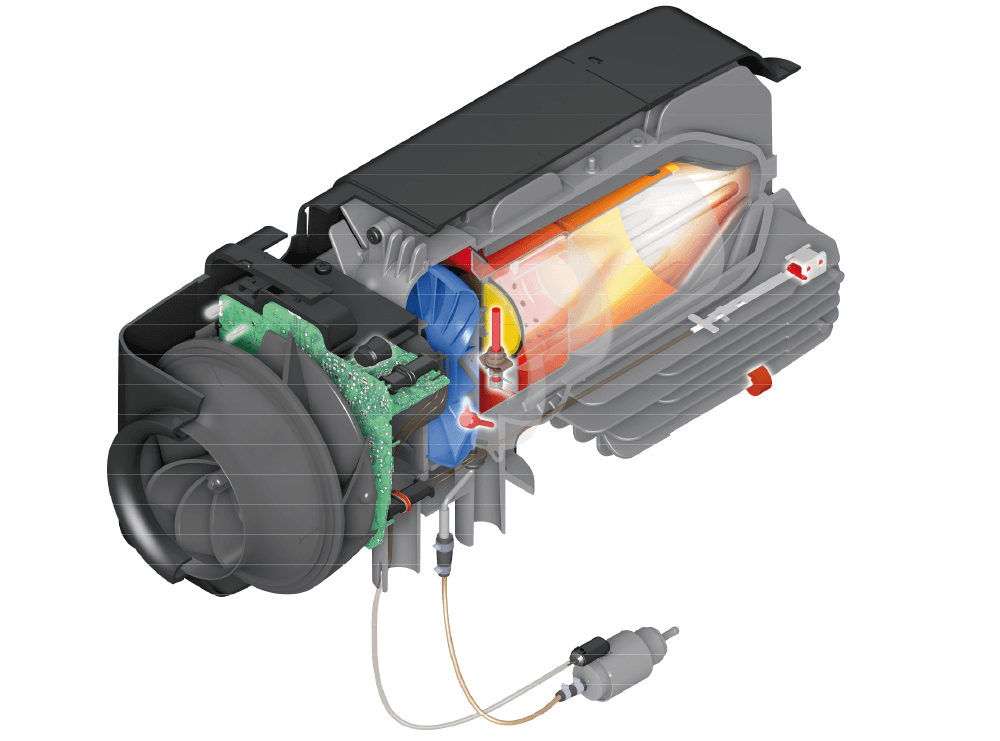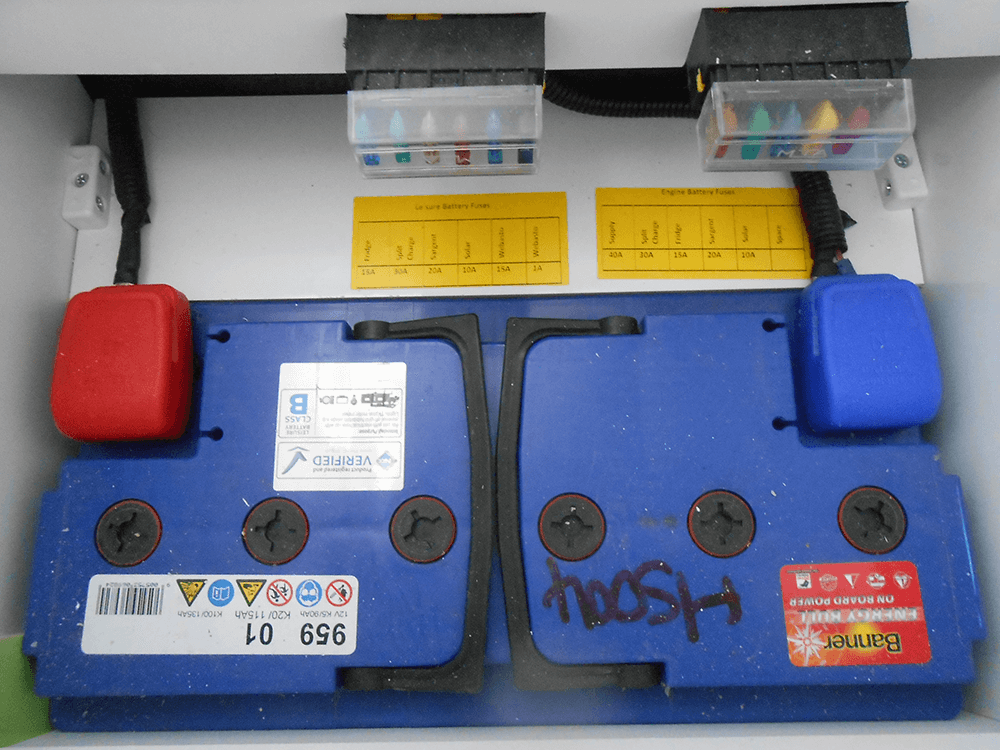 Timeless high gloss white furniture and silver tambour doors contrast with pragmatic textured slate worktop laminate with a strong poplar ply core to offer a robust high-end finish.
Beige if definitely NOT an Auto camper options, however Green, orange, Duck egg blue and driftwood are popular alternative cost options.
Ford charcoal fabric provides a durable automotive interior trim solution. Leather can be explored as a bespoke option, please ask.
Duck Egg Blue
Slate Worktops & Table
White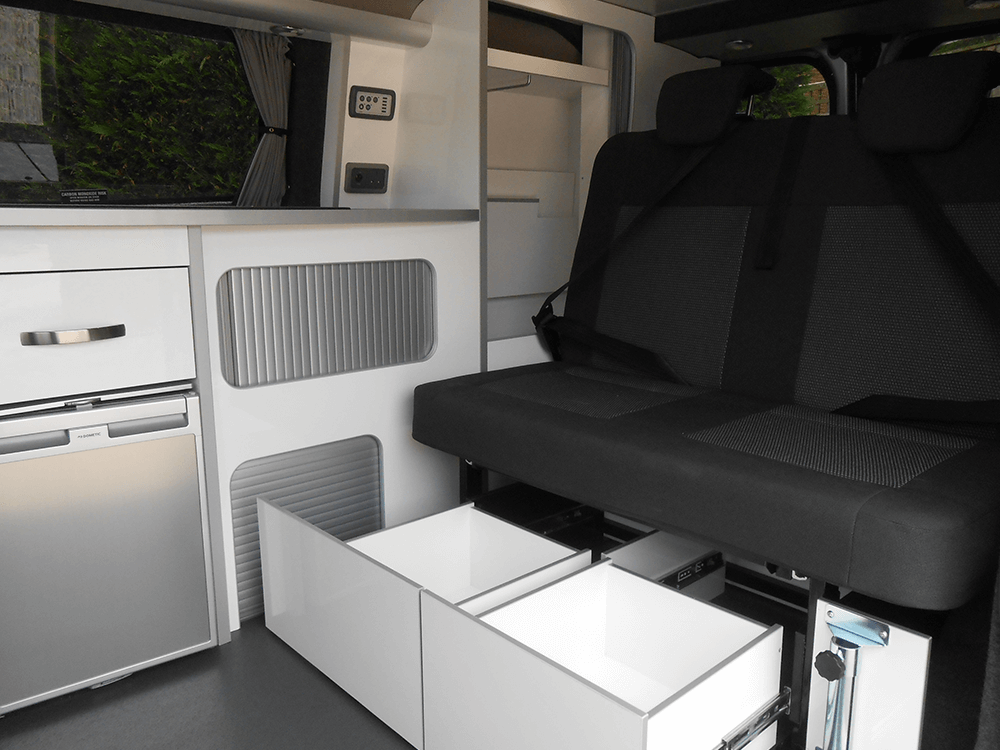 Orange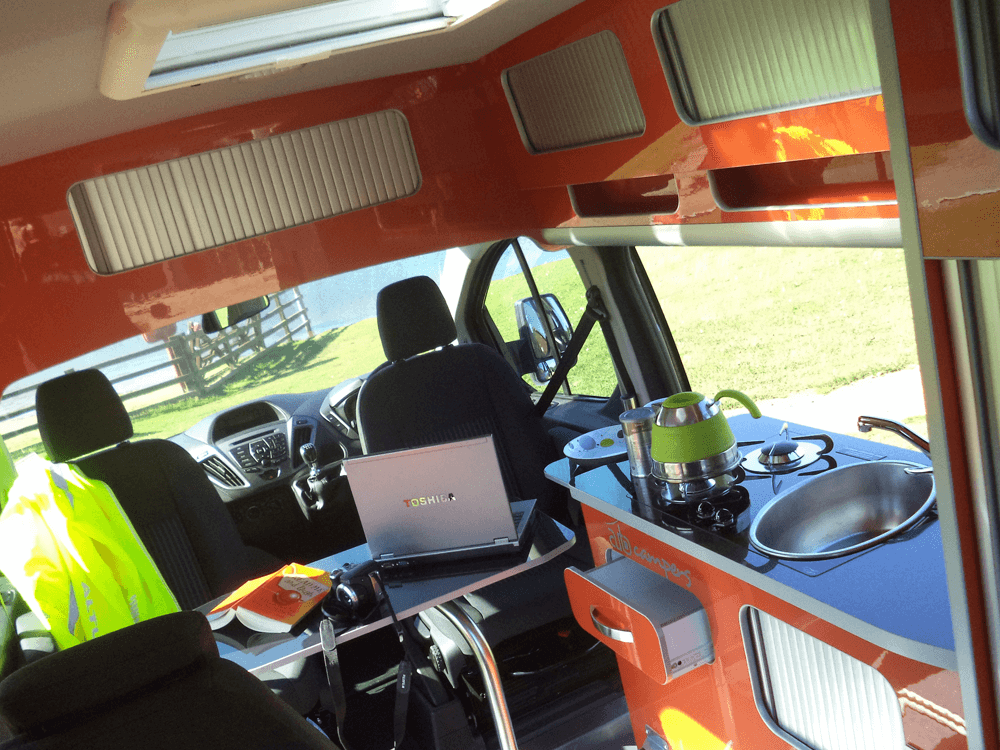 Driftwood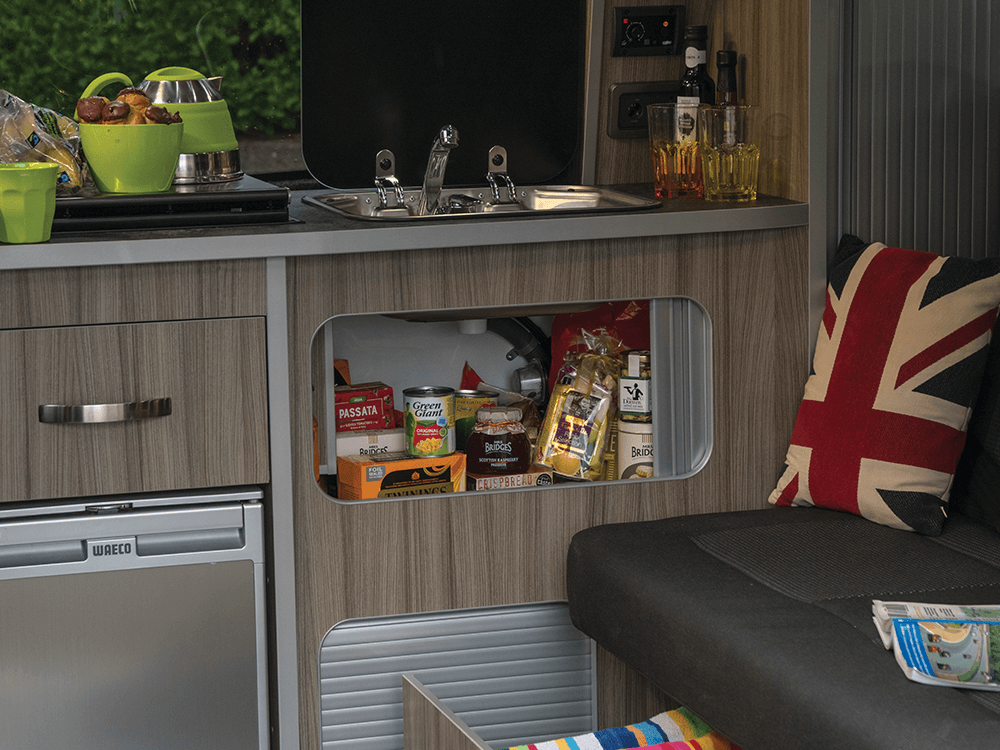 Green
External fresh & grey polypropylene water tanks are mounted below the floor in chassis voids to optimise internal stowage, accessible taps allow convenient drainage of grey water tank and easy draining of fresh water system for winter use. High output pump provides ample flow to sink and optional external shower.
A standard 907 Camping Gaz bottle is conveniently accessible and safely stored in a steel gas box with drop vent and regulator, providing propane gas to a double hob with 12V piezo ignition, all gas and electrical work is tested and certificated.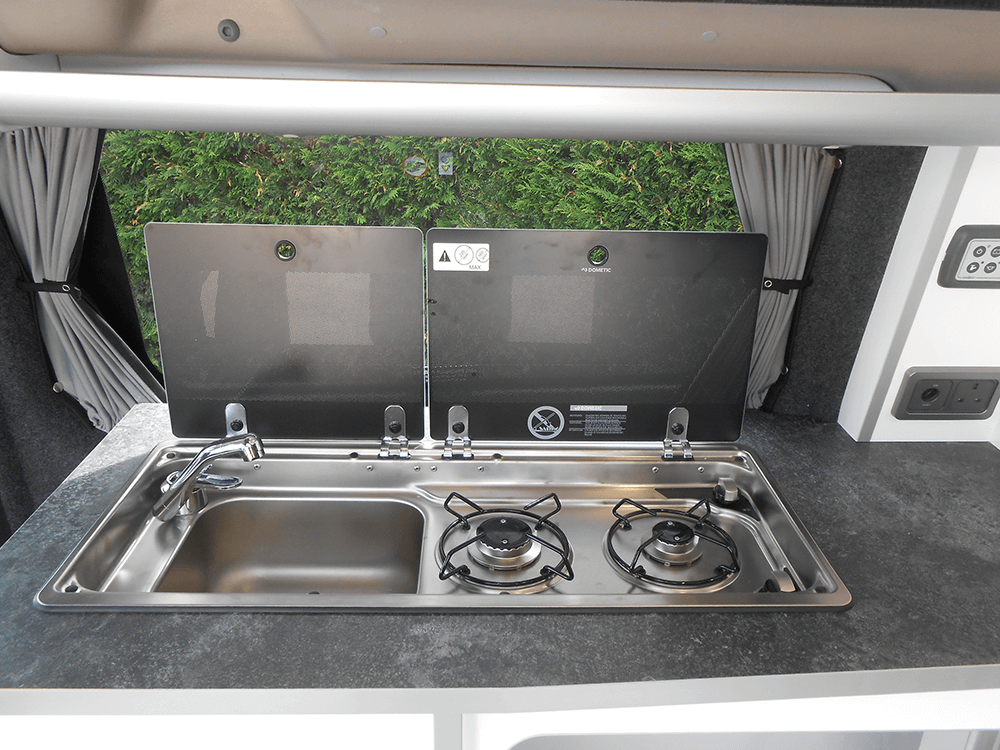 Ford
External Length 4972mm / 16'4"
External Height 1972mm-2020mm/6'6"- 6'7.5"
External Width 2080mm / 6' 10"
Berths 2
Fuel Tank Capacity 80ltrs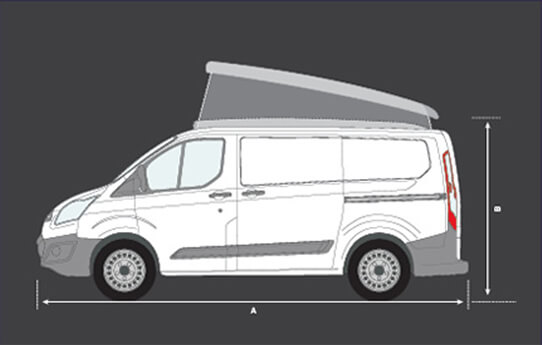 Ford
External Length 4972mm / 16'4"
External Height 2100mm / 6'9"
External Width 2080mm / 6' 10"
Berths 2-4
Fuel Tank Capacity 80ltrs
Ford
External Length 4972mm / 16'4"
External Height 2440mm / 8'0"
External Width 2080mm / 6' 10"
Berths 2
Fuel Tank Capacity 80ltrs
This website is only for information purposes, the pictures, texts, technical details, information and colours may have undergone changes during the preparation process. We reserve the right to change our products without prior notice.